Challenges Mount in Philippine Central Bank Chief's 2nd Year
(Bloomberg) -- Philippine central bank Governor Nestor Espenilla faces mounting challenges as he begins his second year in office.
The 59-year-old central banker is set to miss his inflation target, the peso is wallowing near a 12-year low, and he is facing criticism he took too long to raise interest rates. He ends the first year of his six-year term in office with global worries too: higher oil prices, trade wars and tighter monetary policy.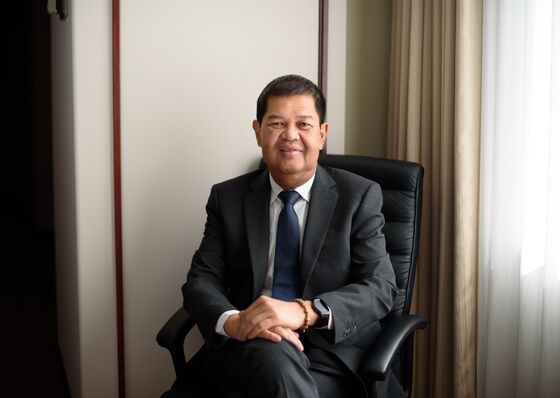 "It's been a difficult environment for the Bangko Sentral ng Pilipinas," said Joey Cuyegkeng, economist at ING Groep NV in Manila. "It tried to respond to the challenges, but the challenges remain."
The central bank has raised its benchmark rate twice this year to 3.5 percent and left the door open for more tightening in June.
But the rate hikes came only after inflation hit a five-year high in March and followed a month after the central bank cut the reserve requirement ratio for lenders -- a move that would boost liquidity into the financial system -- confounding analysts from Continuum Economics and Natixis Asia Ltd.
The cut in the reserve ratio is part of Espenilla's policy to gradually lower it to 10 percent by 2023, and a move he says shouldn't be interpreted as a monetary policy adjustment.
Bangko Sentral "continues to send mixed signals by raising interest rates and cutting required reserves ratio," said Charu Chanana, economist at Continuum Economics in Singapore. "It is the uncertain policy making that is the biggest headwind to the peso as of now, and their focus on domestic conditions looks inappropriate."
The peso is vying with India's rupee as Asia's worst performing currency, with both down more than 6 percent against the dollar this year. The peso rose 0.1 percent on Tuesday, paring its decline this year to 6.5 percent. The benchmark Philippine Stock Exchange Index entered the bear market last month and has lost 16 percent this year.
Espenilla said on Monday the currency is strong, but facing "headwinds" for now.
"For BSP, it's a matter of careful navigation and timely reaction," he said. "The economic ship itself is fundamentally solid and sturdy. We'll get to better weather soon enough and sail on to destinations."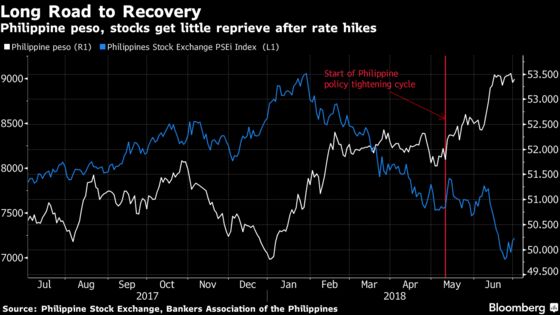 Unlike Indonesia -- where the central bank has raised interest rates by 100 basis points in the past six weeks -- the Philippines has low foreign ownership of its stocks and bonds, allowing policy makers to focus more on domestic factors, said Noelan Arbis, an economist at HSBC Holdings Plc. in Hong Kong.
"There shouldn't be a one-size-fits-all formula when dealing with emerging markets," Arbis said. "Indonesia's large foreign positioning makes it more susceptible to capital outflows."
That doesn't mean Bangko Sentral is immune to global sentiment. Sun Life of Canada Philippines Inc. Chief Investment Officer Michael Enriquez said external conditions, from a strengthening dollar to higher global oil prices, have fanned price pressures and complicated monetary policy decisions.
"Moving forward, investors still want certainty on the policy direction," said Enriquez. "We all are clear that the Bangko Sentral is an inflation-targeting central bank but we need to be convinced that they are on top of that."