Centrica Plunges to Two-Decade Low on Bleak Outlook for 2019
(Bloomberg) -- Centrica Plc plunged to the lowest in almost two decades after tougher trading conditions in the U.K. energy market prompted the utility to forecast a gloomy outlook for next year.
Hurt both by a government-imposed cap on consumer energy bills and by outages at nuclear plants and gas wells, a target range for average adjusted operating cash flow "is under some pressure," the company said. Britain's biggest household energy supplier plans asset sales and cost cuts totaling 750 million pounds ($981 million) as well as 1,500 to 2,000 job reductions this year.
The outlook prompted Goldman Sachs to warn that future earnings estimates will likely be pared for this year, fanning speculation that Centrica will have to cut its dividend. It's the latest sign of pressure for the "Big Six" utilities in the U.K., with competition between retail suppliers heating up and both main political parties working to limit what energy companies can earn.
"Lower commodity prices have put further pressure on earnings such that we do not believe that the current 12 pence a share dividend is sustainable" as required cash flow levels won't be met, said John Musk, an analyst at RBC Europe Ltd. "We now assume an 8 pence dividend from 2019, with a 75 percent payout ratio from 2020 onwards."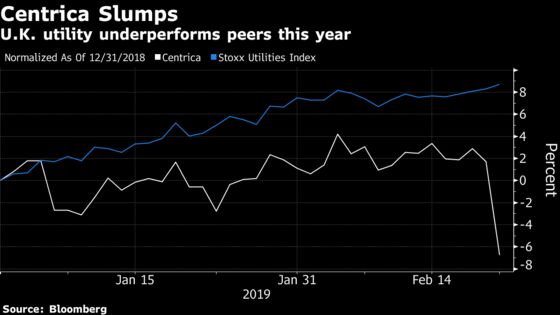 Centrica fell as much as 13 percent to 120.05 pence, the sharpest drop since November 2017 and the lowest price since June 1999. The stock traded at 122.1 pence at 8:49 a.m. in London.
While Centrica sees "encouraging signs of stabilization and growth potential" after customer losses slowed, the U.K. regulator's price-cap increase on some household bills could spur further departures. Five of the Big Six utilities have hiked tariffs to the new price-cap level announced earlier this month. Centrica said it's facing a "challenging external backdrop."
Full year adjusted operating cash flow guidance is about 350 million pounds lower than 2018, which could mean earnings will fall by about 100 million pounds, according to Ajay Patel, an analyst at Goldman Sachs. While 2019 will be a "trough year" and earnings should recover, the near-term headwinds are likely to weigh on shares.
Adjusted operating cash flow rose 9 percent to 2.25 billion pounds; guidance for 2019 is a range of 1.8 billion to 2 billion pounds.
Full year net debt rose 2 percent to 2.66 billion pounds; expected to be 3 billion to 3.5 billion pounds in 2019.
Total customer energy consumption rose 7 percent for gas and fell 3 percent for electricity.
Centrica sold its Clockwork Inc. unit in North America for $300 million. The purchaser is Authority Brands, which franchises home services, and is advised by Apax Partners.
For a link to the earnings statement, click HERE, for a story with more numbers, click HERE.