Cautious Stance on Stocks Makes Sense, Says Deutsche Bank's Puri
(Bloomberg) -- Risks are piling up ahead of the year's end, according to Deutsche Bank Wealth Management's Deepak Puri.
Stocks have gone up too far, too fast since the lows of March 2020, he said. And while they can continue climbing, there are a number of concerns on the horizon.
"When we look at the next couple of months, the risks are a bit more skewed to the downside," said Puri, who is Americas CIO at the bank, where his team manages $29 billion. He cited policy uncertainty out of Washington D.C., China's regulatory crackdown, supply-chain disruptions and input-cost pressures, all which could force more companies to revise lower their earnings guidance. "There are quite a lot of things."
It's all but certain the Federal Reserve will hold rates near zero and maintain its pace of monthly bond purchases after a two-day policy meeting ends Wednesday. But many expect plans to scale back those purchases to be announced soon, adding to the list of market worries. Recent economic data has been somewhat softer-than-expected, especially the latest non-farm payrolls report, which the central bank is known to focus on. As a result, Puri expects an official taper announcement in November, with the scale-back starting either in December or early next year.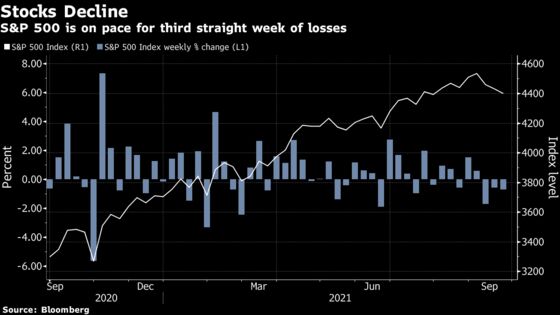 "When you look at all these variables coming from the monetary and fiscal policy sides; somewhat slower growth both on the economic and earnings fronts (so peak profitability behind us); plus some overseas market risks, one could argue that having a bit more of a cautious stance for the time being make sense," Puri said by phone.
Puri's team doesn't have a price target for the S&P 500 for the end of 2021, but they expect the index to be trading around 4,600 a year from now. That implies stocks could add another 5% or so on top of current levels. "But we don't expect that line to be a straight line upwards," he said. "I think there's going to be much higher volatility in the next couple of months." 
The index could test the 4,000 level on the downside, but overall it should stay in the range of 4,000-4,600 over the next couple of quarters, he said. Puri's team favors shares of consumer discretionary, health care and financials, while they're neutral on U.S. technology, which they downgraded from overweight in July. Additionally, they're neutral on industrials and underweight on materials.
Looking ahead to 2022, some of the market's current risks will be behind it. For instance, uncertainty over the Fed's tapering plans will have been resolved, more will be known about how transitory inflation is, and there will be more clarity on policies from D.C, he said.
"So there are risks in the market in the short-term, but a lot of them have a finite shelf life," said Puri. "And once you're beyond that, the path of least resistance for the market again tends to be on the positive side."