Cathie Wood's Nod Boosts DraftKings in New Sign of Her Power
(Bloomberg) -- The Cathie Wood effect is back in full force, lifting online sports-betting company DraftKings Inc. after it gained the Ark Investment Management head's stamp of approval.
DraftKings rose 8.6% on Tuesday following news that Wood had included it in her $7.3 billion ARK Next Generation Internet ETF (ARKW), and gained as much as 2.6% in early trading in New York.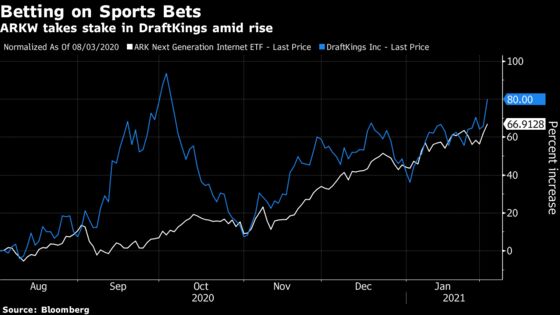 "She has the magic touch right now," said James Pillow, managing director at Moors & Cabot Inc. "Online gambling was clearly her next focus. Wood's new purchase of 620,000 shares in DraftKings is just her latest growth-stock endorsement, and I suspect many more will follow her lead."
The addition of DraftKings is a merging of two hot investments -- Wood's ARKW was one of last year's top-performing equity ETFs with a 154% rise and is up another 16% so far this year, while gaining about $1 billion of fresh cash. Meanwhile, the sports betting platform's shares have risen more than 27% in 2021.
DraftKings is benefiting from moves to legalize online sports betting, with New York Governor Andrew Cuomo now supporting it to help address the state's nearly $16 billion budget deficit. The company also announced Tuesday that it has bought the first-ever Super Bowl ads for Sunday's game.
"It's a smart move by Ark. When the economy reopens, some of the people who have been playing in the stock market will go back to gambling the way they used to," said Matt Maley, chief market strategist at Miller Tabak + Co. "Many of those players have probably gotten burned this week with the deep declines in GameStop, AMC and silver. So they'll go back to what they know better: sports gambling."
Despite a slowdown during the frenzy surrounding GameStop Inc. and other retail-favored investments, Ark has attracted a total of $9.5 billion to its funds this year, beating BlackRock Inc. and State Street Corp.
Fans are eagerly awaiting the launch of the ARK Space Exploration ETF (ticker ARKX), which the firm filed for last month. The fund will be actively-managed and will track U.S. and global companies engaged in space exploration and innovation, according to regulatory documents.