Cathie Wood Funds Whipsawed Amid Record Outflows, Rate Spike
(Bloomberg) -- Cathie Wood's main exchange-traded funds whipsawed on Wednesday as bond yields surged anew and data showed investors pulled a record amount of cash from the firm during this week's tech selloff.
In a very volatile session, the flagship ARK Innovation ETF (ticker ARKK) closed lower, following its worst two-day rout since September. The fund's been battered by the rapid increase in Treasury yields, which have caused investors to think twice about the priciest corners of the stock market.
Both the ARK Genomic Revolution ETF (ARKG) and the ARK Next Generation Internet ETF (ARKW) ended in the green, but away from session highs. Tesla Inc., Wood's biggest bet at her firm Ark Investment Management, climbed after a four-day selloff. Bitcoin, another favorite, also gained while still trading below $50,000.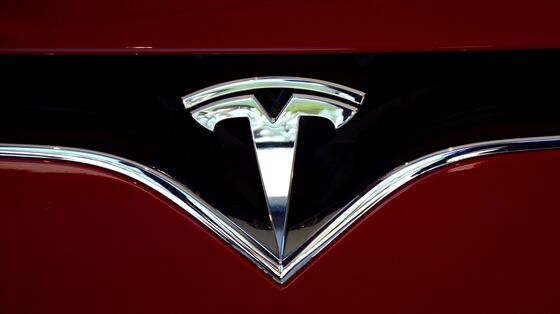 The moves followed data this morning showing investors withdrew an unprecedented $465 million from ARKK on Monday, as well as $202 million from ARKG and $119 million from ARKW -- each a record amount.
Worryingly for Wood, there could be worse to come given the one-day delay in reporting flow data. On Tuesday, ARKK more than doubled its trading volume record set just a day earlier.
For now, the outflows are a fraction of Ark's ETF assets under management, which as of last week amounted to more than $60 billion. Wood told Bloomberg Radio on Tuesday she welcomed the correction, and that she was using it to buy more shares of Tesla.
"Assets in ARKK have ballooned in size in 2021 as some momentum investors chased the ETF higher," said Todd Rosenbluth, CFRA Research's director of ETF research. "Such demand can and often shrinks when losses are incurred. However, even with the outflows the fund remains far larger than it was at year-end, let alone a year ago."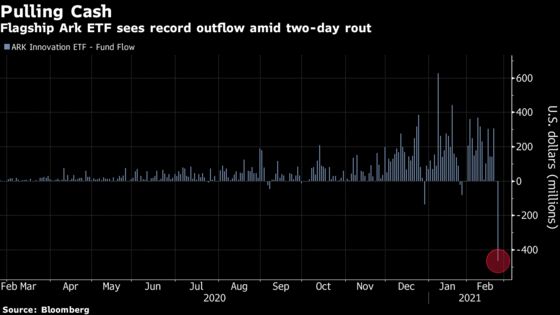 ARKK's assets dropped by about $3 billion from the end of last week to $25.2 billion, the data show.
After its stellar run of inflows and triple-digit returns in 2020, bearish bets have been mounting in the ETF. Short interest has risen to the highest on record, at more than 3% of the available shares in the fund, according to data from IHS Markit Ltd.