Cathie Wood Has Dumped $376 Million of Zillow After U-Turn
(Bloomberg) -- After loading up on Zillow Group Inc. as recently as Tuesday, Cathie Wood and her investment team have now dumped almost 6 million in two straight days.
Ark Investment Management's exchange-traded funds sold another 1.8 million shares of the embattled real-estate company on Thursday, according to the firm's daily trading update. Based on closing price, the stake was worth about $121 million. The move followed Wednesday's offload of 3.9 million shares valued at about $255 million on the day.
The sudden large divestment marks a major shift from Wood and Ark, who had pounced on the initial drop in Zillow shares to add to their position. 
A spokesperson for the money manager didn't immediately respond to a request for comment.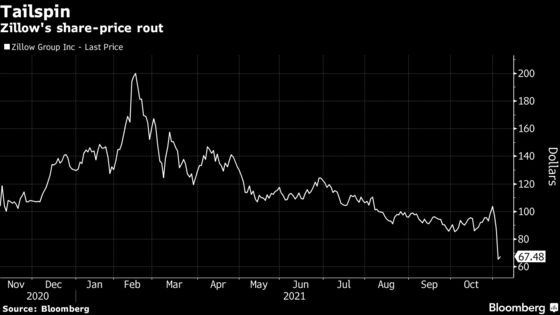 Zillow shares dropped by more than a third this week through Thursday after it said it was shuttering its home-flipping unit. That's prompting investors to question its strategic goal of shifting from a company known for real estate listings to one that gets a bigger piece of the lucrative business around property transactions.
Seattle-based Zillow plans to take writedowns of as much as $569 million and reduce its workforce by 25% as it ditches the algorithm-driven business in the coming months, it said. 
Shares of the real estate firm were trading about 0.6% lower as of 7:45 a.m. in New York on Friday. 
The sales on Thursday were from the ARK Innovation ETF (ticker ARKK) and the Ark Next Generation Internet ETF (ARKW). Both were edging down in Friday's pre-market.
With almost $22 billion in assets, ARKK is Wood's flagship fund. While its largest holding Tesla Inc. has soared this year, the product has been weighed down by other top picks including Zillow, Roku Inc. and Zoom Video Communications Inc. and is almost flat for the year.
Ark's daily trading updates provided figures for the portfolio changes without specifying buying and selling prices. They only show active decisions by the management team and don't include creation or redemption activity caused by investor flows. For that reason, the firm's exact trading activity may vary.