Caterpillar Drops With Trade-Truce Doubts Fueling Demand Worries
(Bloomberg) -- Caterpillar Inc. fell the most in six weeks as skepticism over claims of a U.S.-China trade truce reignited demand concerns that have put the stock on course for its worst year since 2015.
Shares fell as much as 6.6 percent, the biggest intraday decline since Oct. 23, when the mining- and construction-equipment maker repeated its warning about rising costs due to higher steel prices and U.S. tariffs. The stock rallied Monday amid optimism that progress on trade would shore up the outlook.
Caterpillar, considered a bellwether for the global economy, bore the brunt of the market's doubts on the detente, leading a sell-off on the Dow Jones Industrial Average. As investors reassessed President Donald Trump's assertion of success in meeting with Chinese President Xi Jinping, concern also grew over signals from bond yields of a possible economic slowdown.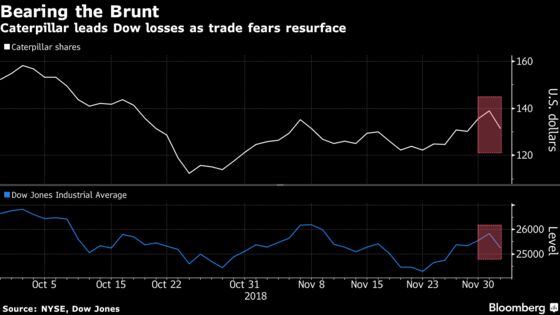 "The market got ahead of itself with respect to Trump's tweets and optimism regarding the trade detente," Larry De Maria, an analyst at William Blair & Co., said by email. "Clearly there is much work to do in order to have a comprehensive trade deal, and reduction in tariffs which would lead to a better outcome for stocks."
Shares fell 6 percent to $130.59 at 2:39 p.m. in New York. The Dow Jones Industrial Average tumbled as much as 805 points.