Carson Block Cuts Short Bets, Ducking Bear-Hunting 'Mob'
(Bloomberg) -- Carson Block said his Muddy Waters Capital "massively reduced" its short positions in recent days, mostly avoiding the buying frenzy that has burned at least two other hedge funds.
"There are no medals for valor in this business," Block said by phone from California. "Being one of the more high-profile short-sellers, it would not be smart for us to have appreciable risk on in any name."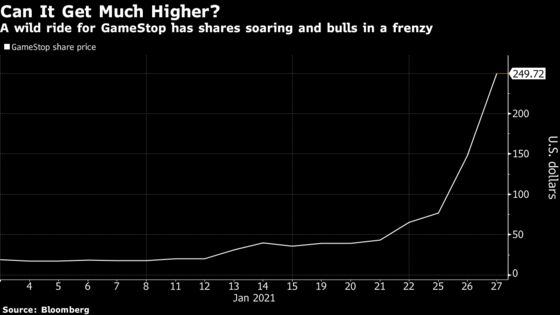 As an activist who mostly seeks to profit by exposing fraud and accounting shenanigans, Block is a regular target for bullish investors who willfully disregard his findings or consider short-sellers a pox on the stock market. But he said the Reddit-fueled attacks on funds that shorted GameStop Corp., including Melvin Capital Management and Citron Research, are like nothing he's seen before.
Block began scaling back its positions about two weeks ago, when he recognized that a squeeze might be building in one of his shorts, GSX Techedu Inc., a Chinese maker of education software that Melvin also bet against. Then, after day traders drove up the price of GameStop by 51% on Friday, he decided it was time to take cover before they zeroed in on Muddy Waters.
"The mob is specifically hunting short-sellers," he said. "We didn't have the misfortune of being in GameStop."
Muddy Waters bought stock to cover most of its shorts on Monday and today was able to reduce risk in the last big position, Block said.
The frenzied buying of GameStop and other heavily shorted stocks, such as bed Bath & Beyond Inc. and AMC Entertainment Holdings Inc., underscores the perils of contrarian wagers in a market buoyed by central bank stimulus and increasingly driven by rumor-chasing punters. Block emphasized that retreating to the sidelines was a tactical decision to safeguard his clients' capital, not a pullback from short-selling.
In recent days, Muddy Waters also largely withdrew from a short bet on Nano-X Imaging Ltd. after the stock was added to the ARK Israel Innovation ETF. That exchange-traded fund is managed by Cathie Wood, who rocketed to star status in Reddit forums and on Twitter after becoming one of the best-performing investors of 2020.
"We expected a retail-buying mania," Block said.