Carbon Gains as Details Emerge on German and EU Emissions Plans
Carbon allowances rose at the fastest pace for a month as officials in Brussels and Berlin released more details about their plans to cut emissions.
The gains overcame concerns about Britain's exit from the European Union potentially flooding the market with excess credits, although traders still don't know key details of how the break will occur. The U.K., with one of the world's most ambitious climate policies, hasn't been able to distribute its carbon allowances for a year, creating a market overhang.
Yet, despite that risk, December allowances advanced 5.1% this week, the most since the week ended Dec. 20. The volume of trading on the benchmark contract jumped to the highest level since the week ended Sept. 13.
Without giving details about when it would act, Germany confirmed it will cancel permits as it exits coal-fired power. The EU's plans to tighten its carbon targets may spur prices to more than double by next year, according to BloombergNEF.
"Even without the U.K., Europe is showing it's serious about cutting carbon," Lawson Steele, analyst at Berenberg Bank, said in an emailed response to questions. "The market faces a grim picture of enormous shortages of permits during the next few years."
On Tuesday, the European Commission unveiled a plan to mobilize at least 1 trillion euros ($1.1 trillion) over the next decade to make Europe the world's first continent to eliminate greenhouse-gas emissions by 2050.
Carbon permits rose as bidding intensified in almost-daily auctions.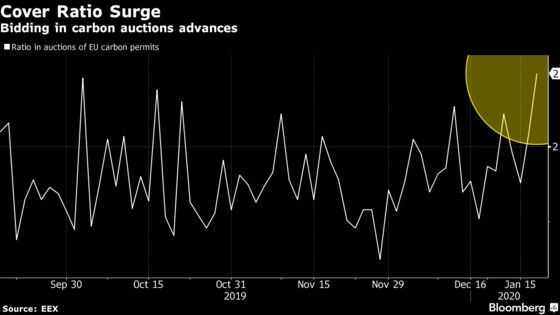 The region's greenhouse gas market started in 2005 to limit emissions from thousands of industrial sites including power plants, steel mills, cement factories and airlines. It requires polluters to hand in allowances covering their annual pollution, raising about 11 billion euros ($12 billion) for governments in 2018.
Britain accounts for about 7% of the permits issued, so the timing and nature of its departure could move prices.
The U.K. and EU will have to negotiate a future trading relationship in a transition period after the Jan. 31 Brexit day. Under Prime Minister Boris Johnson's plan, Britain will probably remain in the EU Emissions Trading System at least thorough the end of 2020.
If there's a deal, the U.K. probably will be allowed to sell new allowances covering its 2019 and 2020 emissions. To date, the EU has prevented the U.K. from auctioning permits because of concerns about Brexit. Putting in place transition arrangements would allow the U.K. to bring the new allowances to market in auctions and via allocations directly to factories.
A U.K. government spokesman didn't immediately comment on the timing of sales and handouts.
READ MORE: Huge Carbon Deal Struck Hours Before Germany Agreed Coal Exit