Capital Group Plans Push Into ETF Market With BlackRock Hire
(Bloomberg) -- Capital Group is gearing up to launch a slate of actively managed exchange-traded funds and hiring a former BlackRock Inc. executive to lead the way.
The Los Angeles-based investment firm with more than $2 trillion in assets plans to release both equity and fixed-income ETF strategies early in 2022, according to a company statement.
Holly Framsted, who previously served as head of U.S. product segments in BlackRock's ETF and index investments group, will join in March as head of ETFs to guide the development and launch of the products.
The new ETFs are an addition to Capital Group's offerings, which include American Funds, a family of more than 40 mutual funds.
"Adding ETFs to our suite of solutions will help us meet the needs of a large and growing group of investors who want the benefits of an ETF vehicle," Tim Armour, chairman and chief executive officer of Capital Group, said in the statement.
Details of the exact strategies and formats of the products have not yet been disclosed. Capital Group has also licensed a non-transparent ETF structure from Precidian Investments.
The firm is the latest in a line of big money managers making a late entry into the $5.6 trillion ETF market. The introduction of rules in 2019 that streamlined the approval process for new funds and allowed a structure that shields strategies seems to have prompted many to make the plunge.
The U.S. ETF market overall took in more than $480 billion in 2020, while mutual funds lost at least $469 billion.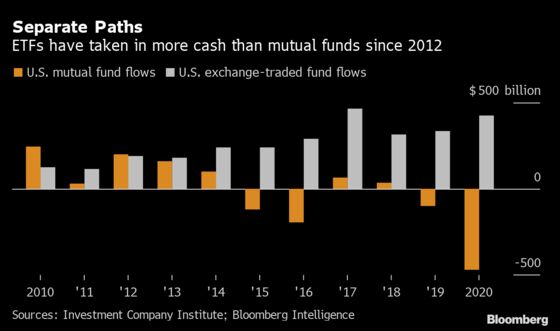 "With Holly's leadership, we will be ready in early 2022 to deliver active ETFs that seek to provide the same superior long-term results to our distribution partners and their clients that they have come to expect," Matt O'Connor, chairman and chief executive officer of American Funds Distributors, part of Capital Group, said in the statement.