Canyon's Friedman Sees Distressed Funds Feasting on SPAC Remains
(Bloomberg) -- After 31 years as a credit investor, Josh Friedman is certain of one thing: Every boom ends in a bust. And there's a grand finale in the making with the flood of use-it-or-lose it money into SPACs.
"Distress will come back," Friedman, who oversees $27 billion as co-chief executive officer of Canyon Capital, said in a Bloomberg "Front Row" interview. "It always does, because this type of environment is exactly what creates mistakes."
To Friedman, nothing epitomizes the breakdown in market discipline like special-purpose acquisition companies. Already, 165 SPACs have completed or announced $115 billion in mergers over the past eight months. Another 724 have at least $32 billion to spend, most within two years, or face giving their capital back to shareholders.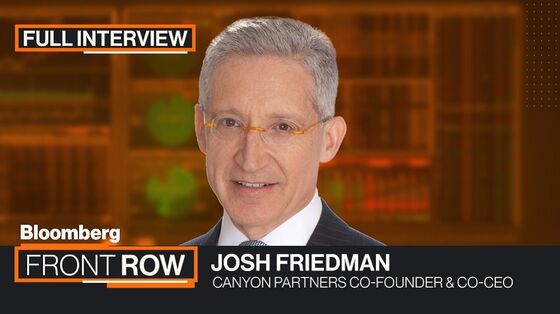 Even the most sophisticated private-equity firms and venture capitalists are bidding up assets, with 2021 on track to become one of the biggest and busiest year in the history of dealmaking.
"You've got big portions of the equity markets that are in business just to make acquisitions," Friedman said. "SPACs, they go out of business if they don't make acquisitions. And when people make acquisitions and they use debt to make acquisitions, there will be mistakes."
Friedman, 65, has seen it before -- or something like it. As a banker at Michael Milken's Drexel Burnham Lambert in the 1980s, he raised money for buyouts before the first high-yield crash. Another big slump in junk bonds came in 2001-2002, followed by the 2008 financial crisis and major sell-offs in 2011 and 2016.
The pandemic, too, would have produced a bonanza for predatory buyers had governments not stepped in with unprecedented amounts of stimulus. Instead, with so much liquidity, markets are rewarding the converse: bidders most willing to forgo due diligence and capable of closing deals the fastest, he said.
"Part of the game, because it's so competitive, is the speed becomes a big factor," Friedman said. "You can say, 'Well, maybe due diligence doesn't matter, maybe understanding the management, having a relationship with them and having the leverage to pull, maybe those don't matter anymore.' I think all those things still matter."
Canyon, founded in 1990, was among the first hedge funds to specialize in credit investing. Drexel, the biggest market maker in high-yield bonds, had just collapsed and the government was auctioning portfolios seized in the savings-and-loan crisis. Friedman and Mitch Julis, his Harvard roommate and Drexel colleague, saw an opportunity to take advantage of beaten-down prices.
"Things were cheap," he recalls. "Really, really cheap."
Many of their peers, including the founders at Apollo Global Management Inc. and Oaktree Capital Group, expanded across the spectrum of lower-yielding credit and into private equity and real estate, went public and amassed hundreds of billions of dollars in assets.
Canyon took a different route. It focused more on opportunistic strategies and so still relies on periodic bouts of debt market distress and the kinds of complex, often customized deals that produce double-digit returns.
During the brief spell of distress in the early part of the pandemic, the firm loaded up on investment-grade bonds and structured products at deep discounts. That helped Canyon trim losses in its flagship hedge fund to end 2020 down 4%. The $8.6 billion fund is up 9.3% this year.
While Canyon is currently active in some distressed real estate, including the debt of mall owner CBL, it's growing cautious and holding more cash.
"In broad parts of the market, you're probably getting paid less than you'd like, and less than maybe you should," Friedman said.
The biggest change for Canyon has nothing to do with investing: Friedman and Julis, 66, are leaving Los Angeles for Dallas, part of the largely tax-driven exodus of hedge fund and private-equity managers from California and the Northeast.
By December, they expect to have 55 employees in Dallas. About 130 will remain in Los Angeles.
Friedman thinks the state has become too progressive and hostile to business after 10 years with Democrats controlling the governor's office and the legislature. The challenges of hiring, schooling, housing and commuting override all that makes California special, he said.
"States do have to think about how their public policies affect those who work in them," he said. "People in capital are mobile."