Labor Tensions Add to Steady Drumbeat of Copper Supply Threats
(Bloomberg) -- The steady stream of supply news fueling copper's rally continued on Monday, with one Chilean mine reportedly cutting its workforce and another facing a strike.
Lundin Mining Corp.'s Candelaria is reducing its headcount by 7% as the coronavirus pandemic spreads in the top copper-producing nation, according to unions. In the same region of northern Chile, supervisors at Antofagasta Plc's Centinela mine rejected a final wage offer and voted to strike.
The cutback and potential labor disruption add to concerns over Chile's ability to maintain output as more workers fall ill, with copper prices surging to the highest in two years. Major mines in the country have shelved non-essential activities and demobilized workers to focus on output.
Candelaria notified the mine's five unions on Monday, citing a restructuring as a result of the pandemic's impact. Lundin didn't respond to requests for comment.
"The saddest part about this is that they are active workers," said Evelyn Walter, president of one of Candelaria's unions. "With collective-bargaining negotiations starting in August, we feel it's a form of oppression at a time when workers have already been hit by the pandemic."
Lundin acquired its 80% stake in Candelaria from Freeport-McMoRan Inc. in 2014. The complex, comprised of open-pit and underground operations in the Atacama region, produced 146,330 tons last year, according to Lundin.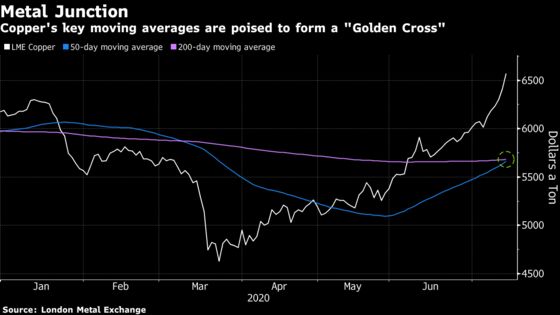 At Centinela, supervisors who make up 396 of a staff of about 2,000 at the mine voted 94% against the company's final offer as part of their collective-bargaining process, Celso Pardo, president of their union, said by telephone.
The outcome mirrors the result of a vote by workers at Antofagasta's Zaldivar mine on Friday. Still, the company has the option to undergo government mediation at both mines, meaning there is still time to prevent strikes.
"Mining hasn't stopped, operations haven't been paralyzed even in the midst of the pandemic, which is why we feel more empowered to ask for what we deserve," Pardo said.
Copper extended an eight-week winning streak in London as risks to South American supplies grow just as the demand outlook improves in China, the top consumer of the metal.
The metal widely regarded as an economic bellwether has benefited over the past two months from a confluence of positive factors, with supplies at risk as lockdowns ease. The latest lift has come as bullish sentiment has enveloped Chinese financial markets, marked by local stocks outpacing gains in every other market worldwide.
"Supply threats can be a forceful temporary driver and on that basis momentum can take it higher," Ole Hansen, head of commodity strategy at Saxo Bank A/S, said by email.