Canadian Stocks Shy of Bull Market as Materials and Oil Fade
(Bloomberg) -- Canadian equities rose for a third session but fell just short of a bull market as an early rally cooled off.
The S&P/TSX Composite Index gained 1.8% to 13,371.17 in Toronto, with materials the only sector to close in the red. Marijuana stocks were among standouts as several jurisdictions allowed dispensaries to remain open during stay-at-home orders.
Elsewhere among equity gainers, Winnipeg-based bus maker NFI Group Inc. surged 33%, the most on record. The company temporarily cut its dividend earlier this week while laying off staff.
Canada's government and central bank are gearing up to acquire hundreds of billion of dollars in assets from the financial system in coming weeks in order to keep markets running smoothly during the pandemic-induced economic shutdown.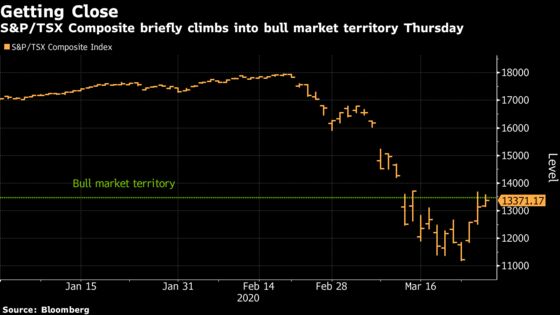 Oil posted an ugly session after the head of the International Energy Agency warned global demand was in "free fall" as coronavirus lockdowns wreak havoc on consumption. Futures in New York tumbled 7.7%. Meanwhile, Canadian heavy crude has become so cheap that the cost of shipping it to refineries exceeds the value of the oil itself, a situation that may result in even more oil-sands producers shutting operations.
Western Canadian Select crude in Alberta dropped $2.84 to a record low of $6.45 a barrel on Thursday, according to Bloomberg data going back to 2008.
As investors digest stimulus packages along with social-distancing efforts, "fear is part of the cure," Eddie Perkin, chief equity investment officer at Boston-based Eaton Vance Management, said on BNN Bloomberg. Eaton Vance isn't looking to make a "big cyclical recovery bet," but said maintaining a balanced portfolio is key.
Opportunities exist to deploy capital in the current market, though keeping some dry powder is crucial, Perkin added.
Western Canada Select crude oil traded at a $16.40 discount to West Texas Intermediate
Spot gold rose about 1% to $1,633.82 an ounce
The Canadian dollar strengthened 1% to C$1.4057 per U.S. dollar
The 10-year government bond yield fell 5 basis points to 0.85%