Bear-Market Stock Rally Comes Undone in Canada Amid Wild Swings
(Bloomberg) -- To say it's been a volatile week doesn't quite describe it. For traders, it was mayhem.
For a brief 24 hours this week, it looked like Canada's stocks would technically crawl out of a bear market. Those hopes came crashing down Friday as rapidly deteriorating economic conditions gripped markets even as central banks and governments rushed to announce more stimulus measures.
The week started with the S&P/TSX Composite Index plunging to its lowest in almost nine years after Ontario and Quebec -- the nation's economic heavyweights -- ordered the shutdown of non-essential businesses.
That was followed by a 12% rebound on Tuesday, the biggest jump since at least 1977, as stimulus packages eased concerns about a global economy in freefall. After another big rally Wednesday, the Canadian benchmark was a mere 335 points away from a 20% rise -- the standard measure for a bull market.
For a couple of hours on Thursday, the TSX actually crossed that level, but backed away from it at the close. Then the kicker on Friday -- the index slumped as recession fears escalated.
"We believe the moves higher that we have seen over the past couple of days would fall in the camp of 'bear-market rally'," said Philip Petursson, chief investment strategist at Manulife Investment Management. "The overall move by the market is very typical of what we see in advance of a recession."
The three-day surge earlier in the week was "just a recovery from oversold panic drop. A bull market is real when the virus recedes and we can go back to work," said Barry Schwartz, chief investment officer at Baskin Wealth Management.
Governments are spending unprecedented amounts of money to stem a downward spiral that is showing up in some shocking weekly unemployment claims -- 3.28 million in the U.S. and almost 1 million in Canada.
Trudeau's government added tens of billions Friday to a stimulus package that had already topped C$100 billion. In the U.S., a $2 trillion package passed the House and is on its way for Donald Trump's signature. Trillions more will be spent in the rest of the world.
Central banks are also in shock-and-awe mode: the Bank of Canada announced a large scale asset purchase program and cut its benchmark rate to a record low.
Coronavirus cases in Canada have quadrupled this week with about 40 deaths announced so far. About 80% of Canadians believe it will be at least three months, if not much longer, before their lives go back to normal, according to an Angus Reid Institute survey released Thursday.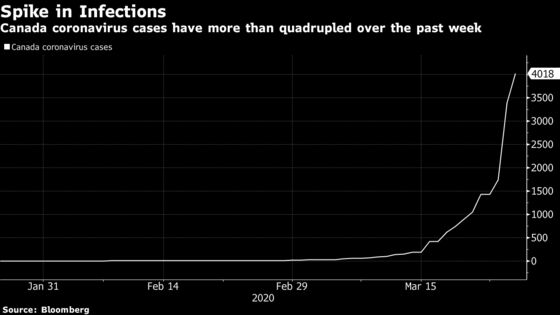 Even after a week in which it rose about 7%, the Canadian benchmark is still down about almost 30% from its Feb. 20 record high. Breadth is abysmal with only three and seven members of the index trading above their 50 and 200-daily moving averages respectively. And there's limited evidence fundamentals are improving as more companies announce the temporary suspension of operations, pulling their first quarter and annual forecasts.
"Who would dare to issue a forecast at all?" David Rosenberg, founder and chief economist of Rosenberg Research and Associates, said in an interview on BNN Bloomberg television.
With virus cases still climbing in many parts of the world, it's too soon to rule out another setback, said Kurt Reiman, who sets strategy for the Canadian arm of BlackRock Inc. "Elevated levels of implied volatility suggest we should be prepared for large market moves, both up and down."
Investors who are focused on the longer term would be better off reshaping their portfolios to a neutral stance, he said. Stick with strong and high quality companies that are sheltered from big volatile market moves, Reiman added.
Petursson is applying a similar strategy. "While we believe the markets can potentially see further downside, we believe it is less than what we have already experienced and at these levels we are starting to view equities with more optimism. There are some great bargains to be had."
"We suggest dipping a toe in rather than jumping in waist deep as the market may be prone to further downside," Petursson said. But "for those clients that have been looking to increase their equity weight, we believe the markets are presenting those opportunities now."
Too Soon to Call a Bottom
"Investor sentiment is almost certain to remain extremely fragile in the near-term as investors weigh the latest developments on the Covid-front," said Candice Bangsund, portfolio manager at Fiera Capital Corp.
While concrete and sizable stimulus measures should help revive investor sentiment, it's too soon to call a bottom, Bangsund said.
"With little visibility on the depth and duration of the economic fallout as the virus continues to spread across Europe and the U.S., investors will be beholden to virus-related headlines that are likely to inflict more periodic episodes of volatility and the erratic market gyrations that come with it."
Markets -- Just The Numbers
| | |
| --- | --- |
| Stocks | The S&P/TSX Composite climbed about 7% this week, snapping five weeks of declines. Pot stocks were among the biggest gainers amid strong demand and as several jurisdictions allowed dispensaries to remain open during stay-at-home orders. |
| Bonds | The 10-year bond yield fell to 0.728%, and the 2-year yield slumped to 0.456%. |
| Loonie | The Canadian dollar has strengthened by about 2.6% this week against the greenback. |
Trudeau called on Canadian celebrities across the world to tell their fans to social distance and self-isolate where necessary. Singer Michael Buble and actor Ryan Reynolds got the ball rolling with their own social media posts, with Shawn Mendes and Seth Rogen among other stars joining in.