Canada's Benchmark Index Enters Correction Amid Mounting Rate Worries
(Bloomberg) -- Canada's stock benchmark entered a correction Wednesday, following global markets lower as markets fretted about political tensions and higher interest rates -- including north of the border.
The S&P/TSX Composite Index tumbled 2.5 percent Wednesday to 14909.13, the biggest drop since September 2015. That brought the decline from a July high to 10 percent, the generally accepted definition of a correction. For the year, the market is off 8 percent and ranks 12th among its developed-world peers, according to data compiled by Bloomberg.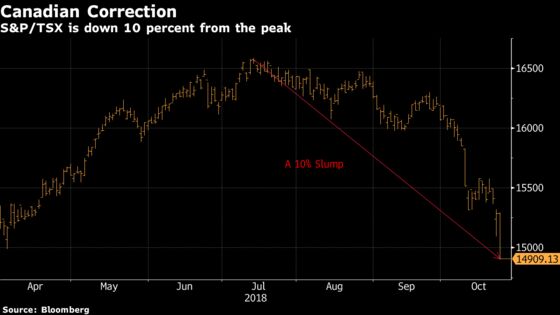 The market plunge today is the culmination of a year of uncertainty over trade wars, tariffs and more recently, tensions with Saudi Arabia, said David Rosenberg, chief economist and strategist at Gluskin Sheff & Associates Inc. in Toronto.
"We don't have yesterday's certainty; we have tomorrow's uncertainty," Rosenberg said in an interview with BNN Bloomberg television.
The correction came as the S&P 500 Index and the Dow Jones Industrial Average erased their gains for the year and the Nasdaq plunged the most since 2011, entering a correction. Markets have been hammered by rising bond yields and the U.S.-China trade war, with weak U.S. housing data adding more pressure in Wednesday's session.
The Bank of Canada raised its overnight benchmark rate by a quarter point to 1.75 percent, the third hike this year. Its statement dropped references to taking a "gradual approach." The loonie erased some of its gains on the rate hike to trade 0.3 percent higher at $1.3049 per U.S. dollar.
Rosenberg said the bank was right to raise rates today, but shouldn't have been so strident about further rate increases.
"I was stunned by the extent to which they changed the language," by removing a reference to "gradual" rate moves, he said. "I would not have been so hawkish."
The health-care sector fell 6 percent as pot stocks gave up earlier gains to tumble for a seventh day. Canopy Growth Corp. lost 7.6 percent and Aphria Inc. fell 7.3 percent.