Canada Pot Stocks, Banks Lead Plunge in Worst Month Since 2011
(Bloomberg) -- Canadian stocks are headed for the worst month in seven years after both the staid banking sector and newfangled cannabis stocks bruised the main index.
Together, financial and pot stocks accounted for 31 percent of the benchmark's decline this month, with the two sectors contributing 364 points of the 1,179-point drop in the S&P/TSX Composite Index through Oct. 30. Even with Wednesday's early gains, the index is down 6.4 percent in October, the biggest monthly drop since September 2011.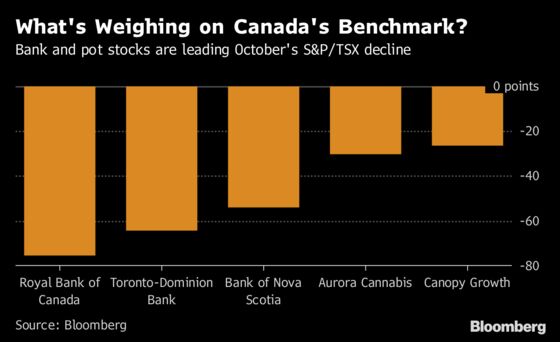 Still, the plunge in Canada pales in comparison to south of the border, where the tech-heavy Nasdaq Composite Index is down about 9 percent in October, on track for its worst month since November 2008.
In Canada, the story is more about rising interest rates and trade concerns. Generally speaking, higher rates are good for bank margins but in Canada they've also raised concerns about elevated household debt levels. The Canadian market has taken an additional hit from the recent rout in cannabis shares, which began one day before the country legalized recreational pot on Oct. 17. Concerns about high valuations, supply shortages and limited distribution networks in Canada have all hit the stocks. Gold shares bucked the trend, with Barrick Gold Corp. gaining 16 percent on the month.
One technical indicator could be a sign of more positive things to come. Every time the 50-day moving average has fallen below the 200-day moving average in the past five years, a rally has followed.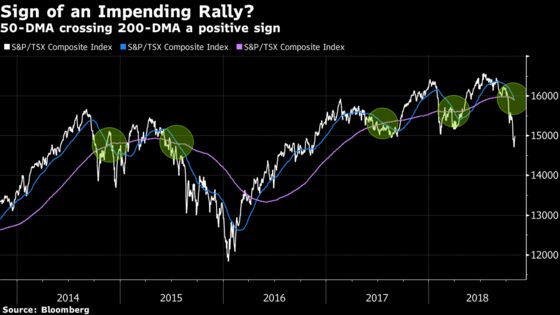 That happened Tuesday and stocks turned higher Wednesday, gaining 1 percent in early trading. The S&P/TSX appears to be "oversold," Martin Roberge, portfolio strategist at Canaccord Genuity Group Inc., wrote in a note published Monday.