Canada Goose Drops After Cutting Forecast on Drag From Virus
(Bloomberg) -- Canada Goose Holdings Inc. fell after the company said the coronavirus is "having a material negative impact" and cut its full-year forecast for sales and profit.
Revenue at the luxury parka maker will rise as much as 15% for the fiscal year that ends in March, down from a previous outlook of at least 20%, the company said Friday. Profit per share, excluding some items, will be between a drop of 2.2% and a gain of 0.7%, far below its prior forecast of at least 25% growth.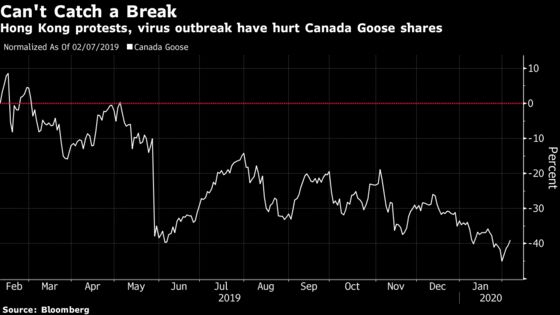 The company joined Burberry Group Plc Friday, and other high-end clothing companies this week, in slashing or scrapping forecasts because of the virus. Canada Goose Chief Financial Officer Jonathan Sinclair said on an earnings call Friday that revenue in China is currently at "negligible levels."
The virus is affecting both brick-and-mortar stores and e-commerce across the country. Canada Goose has three stores in mainland China and two in Hong Kong. Travel restrictions related to the coronavirus have cut tourist shopping in North America and Europe as well, and the impact could extend depending on the duration of the outbreak.
"Canada Goose is effectively entering its low season a few months early," said Maxime Boucher, an analyst at Bloomberg Intelligence. "Delayed sales of parkas may not be recouped until next winter even if the virus is quickly contained."
The shares dropped as much as 8.1% in Toronto, the biggest intraday slide in almost three months. The Canadian shares had declined 6.1% this year through Thursday's close, as investors expect Chinese consumers to stay away from stores to minimize exposure risks to the coronavirus.
The virus adds to earlier business disruptions caused by political protests in Hong Kong that drove away tourists and shoppers in recent months. To be sure, revenue in Asia had doubled last quarter to C$94.7 ($71.1 million), before the outbreak, showing the region has been a strong growth driver.
"We believe we are poised to resume our strong growth trajectory in greater China when this is over," Sinclair said.
In other results for the company's fiscal third-quarter, which ended Dec. 29, profit and revenue topped analysts' estimates. And direct-to-consumer sales climbed 28% to C$301.8 million.
The stock has also become a magnet for short sellers, whose positions now account for $608 million, or about 32% of the company's float, according to data by financial analytics firm S3 Partners LLC.
Toronto-based Canada Goose sought to assuage investor concerns about swelling inventory levels and reports of discounts by some retailers, which weighed on the stock in recent months.
The company is reducing its reliance on third-party manufacturing in Canada by two-thirds and ramping up in-house production, Chief Executive Officer Dani Reiss said on the call Friday. Inventory levels relative to growth will normalize by the third quarter of the next fiscal year, he said.
Reiss also repeated that Canada Goose is a full-price brand.
"We don't believe in being promotional", he said. "We're not prepared to participate in a race to the bottom."