Can Bears Ignore These Short-Term Opportunities?: Taking Stock
(Bloomberg) -- There's something strange about this market: It doesn't inspire confidence because of all the hurdles ahead, whether it's global trade, earnings downgrades, Brexit, or Fed policy. But at the same time, there are signs that point to opportunities.
Looking at yesterday's price action, investors seemed somewhat disappointed not to get further details about a potential U.S.-China trade deal. The Stoxx 600 still managed to rally in late trading, and the Itraxx hovered near its lowest level since Dec. 20. Breaking above the 50-DMA for the Stoxx 600 will be critical. While the long-term consensus remains relatively bearish, stocks could push a bit higher before dropping. Euro Stoxx 50 futures are up 0.4% ahead of the European open.
A similar picture can be seen on the DAX. The rebound is losing steam and a stronger euro, back above $1.15, could potentially weigh on exporters. As always, investors' patience will be tested if no good news from trade talks is provided.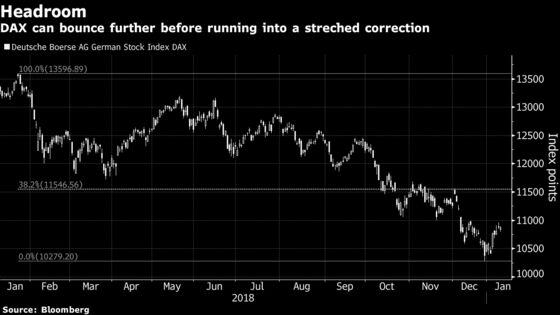 Speaking about the euro, the region's banks, the second-worst performing sector of 2018, are still disliked by most investors but looking at the recent performance of the single currency, there might be something interesting to play. As the Fed shows a more dovish tone and the dollar weakens, even temporarily, euro-area banks could benefit in the near term. As a proxy for the European banking sector, BNP Paribas' share price has been under pressure, creating a valuation gap versus fundamentals according to KBW. Carrying a 7.3% dividend yield, the French bank might be a good candidate for re-rating, at least until its earnings are released on Feb. 6.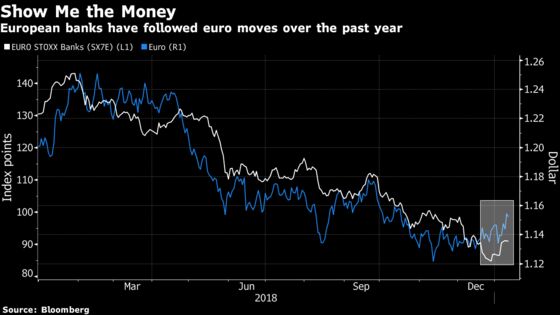 Another interesting corner of the market is Germany's beaten-down mid-cap universe. Even though the country has seen a deterioration in macro indicators recently, economists have remained constructive, forecasting GDP growth of 1.6 percent and 1.5 percent for 2019 and 2020. This divergence of solid economic forecasts and weak capital markets suggests opportunities, according to HSBC. The benchmark for mid-cap stocks MDAX saw its P/E drop to 16 from 19.8, leading to discounts to the 10-year average for the first time in years.
Finally, a word on analysts estimates. The market seems to have mostly priced in slower earnings growth, a key reason for the latest downturn.
And not for the first time, analysts were somewhat behind the curve and started slashing their estimates only recently. But that's not necessarily a negative sign for equities, unless we are entering a period similar to 2002 or 2008. In fact, some investors even see this as a bullish indicator.
The next few weeks will be critical as we will (hopefully) know more about the Brexit outcome, a potential trade deal, and the health of the global economy. In the meantime, looking at some short-term opportunities isn't incompatible even with the most bearish view.
Watch oil stocks as crude is on track to deliver its biggest weekly gain in two years, making a positive start to the new year thanks to traders now believing that OPEC cuts will be enough and that trade tensions between the U.S. and China may be abating. Here are the biggest winners and losers from the spending revival in offshore oil.
Watch gold miners as the yellow metal has restored its place as a haven from market storms, and Goldman Sachs analysts say it will climb to levels not seen for five years.
Watch autos and parts as Volkswagen is going to update the market. Given the trade war backdrop and the battering auto stocks took in 2018, both a backward look at how it fared and a forward look at how it sees the situation progressing will be closely watched. Be aware too of Hella, the German auto-parts player, which said sales growth will be at the lower end of its forecast range. Auto makers got hit hard last year but not as hard as the parts supplier sub-sector, which was peppered with profit warnings. Most of the misery may be priced in, but be prepared for surprises.
Watch for U.S. shutdown news as even if this has not proved a huge issue for financial markets yet, the longer it goes on, the more of a risk it becomes. President Donald Trump is now examining using emergency funding to build the wall on the Mexican border, but the key takeaway from this week is that signs of compromise have been thin to non-existent, so this risk could run for a while yet.
"When the uncertainty enters bigger markets, our region gets hit by the sell wave as investors move their money to more familiar places closer to home," Lippo Suominen, chief strategist at Finnish asset manager FIM, said in an interview. "That also increases volatility. The problems, of which the potential trade war is the biggest one, haven't gone away. Uncertainty will be key this year. Uncertainty breeds uncertainty, putting everything on hold. I do expect a lot of market volatility in 2019."
Richemont reported holiday-season sales just shy of analysts' estimates, held back by political unrest in France and weak sales growth to watch retailers.
Shareholders ousted Debenhams chairman and CEO from the board in a coup engineered by billionaire Mike Ashley.
Kuka cut 2018 sales and EBIT margin forecast, citing a stronger slowdown in the automotive and electronic industry, uncertainties in China, and negative impacts from its project business.
Credit Suisse to Start at Least CHF1b Share Buyback Jan. 14
Danske Is Accused of 'Openly Lying' to Investigators in France
AB InBev Borrows $15.5 Billion to Refinance SABMiller Debt
Hella First Half Adjusted Ebit EU302 Mln
Straumann Chairman Sees CHF5b Sales in Next 10 Years: NZZ
Virgin to Be Largest Holder in New Flybe, Stobart Group: Sky
NOTES FROM THE SELL SIDE:
Jefferies said global video game comparable sales dipped in the second half of 2018 but the coming year is set up better and the medium-term growth outlook is attractive. PC game makers should benefit from higher retention levels, which would help Frontier Developments (buy) the most.
Citi has a note out on machinery stocks ahead of 4Q report. Epiroc, Metso, Alfa Laval and Trelleborg are favored. The broker is cautious on Kone, Schindler, SKF and Atlas Copco. Expectations seem balanced in Sandvik, Volvo, SIG and GEA. Sub-sectors to focus on include mining, selective oil & gas and marine as well as where risk-reward is positive on change stories. In an electrical-equipment note, Citi says ABB capital markets day on Feb. 28 can be a positive catalyst, and sees Vestas outlook improving.
TECHNICAL OUTLOOK for Stoxx 600 index:
Resistance at 351.6 (50-DMA); 353.2 (50% Fibo)
Support at 344.8 (trend channel); 326.5 (76.4% Fibo)
RSI: 52.3
TECHNICAL OUTLOOK for Euro Stoxx 50 index:
Resistance at 3,115 (50-DMA); 3,193 (50% Fibo)
Support at 2,071 (61.8% Fibo); 2,921 (76.4% Fibo)
RSI: 52.5
MAIN RESEARCH AND RATING CHANGES:
UPGRADES:
Cairn Energy upgraded to outperform at BMO
Coloplast upgraded to hold at Jefferies
Gima TT upgraded to hold at Kepler Cheuvreux; PT 6.80 Euros
Hunting upgraded to overweight at JPMorgan; PT 7.29 Pounds
Saipem upgraded to overweight at JPMorgan; PT 4.70 Euros
Straumann upgraded to buy at Jefferies; PT 755 Francs
Suedzucker upgraded to neutral at Goldman; PT 12 Euros
Topdanmark upgraded to hold at SEB Equities; PT 316 Kroner
Virbac upgraded to hold at Jefferies; PT 112 Euros
William Demant upgraded to hold at Jefferies
Bittium downgraded to reduce at Inderes; Price Target 7.50 Euros
Eurobank downgraded to underperform at KBW; PT 47 Cents
Georgia Healthcare downgraded to hold at Jefferies
Ion Beam downgraded to hold at Jefferies
National Bank of Greece cut to underperform at KBW; PT 80 Cents
Orion downgraded to underperform at Jefferies; PT 23.40 Euros
Piraeus Bank downgraded to underperform at KBW; PT 70 Cents
Raiffeisen downgraded to neutral at JPMorgan; PT 28 Euros
Soco downgraded to underperform at BMO
Telia downgraded to sell at SocGen; PT 35 Kronor
UDG downgraded to hold at Jefferies; PT 6.20 Pounds
Akzo Nobel rated new outperform at MainFirst; PT 73 Euros
Eco Atlantic rated new buy at Berenberg
Intervest Offices rated new hold at Kepler Cheuvreux
Ubisoft rated new equal-weight at Stephens; PT 75 Euros
MSCI Asia Pacific down 0.1%, Nikkei 225 up 1%
S&P 500 up 0.5%, Dow up 0.5%, Nasdaq up 0.4%
Euro up 0.22% at $1.1525
Dollar Index down 0.15% at 95.4
Yen up 0.05% at 108.38
Brent down 0.2% at $61.6/bbl, WTI down 0.1% to $52.5/bbl
LME 3m Copper up 0.8% at $5975.5/MT
Gold spot up 0.5% at $1293.4/oz
US 10Yr yield down 2bps at 2.72%
MAIN MACRO DATA (all times CET):
9am: (SP) Nov. Industrial Output SA YoY, est. 0.3%, prior 0.8%
9am: (SP) Nov. Industrial Production MoM, est. 0.4%, prior 1.2%
10am: (IT) Nov. Industrial Production WDA YoY, est. 0.4%, prior 1.0%
10:30am: (UK) Nov. Trade Balance Non EU GBP/Mn, est. £3.78b deficit, prior £4.25b deficit
10:30am: (UK) Nov. Trade Balance, est. £2.8b deficit, prior £3.3b deficit
10:30am: (UK) Nov. Industrial Production YoY, est. -0.7%, prior -0.8%
10:30am: (UK) Nov. Manufacturing Production YoY, est. -0.7%, prior -1.0%
10:30am: (UK) Nov. GDP (MoM), est. 0.1%, prior 0.1%