Can Aston Martin Roar Ahead of Rivals in IPO?: Taking Stock
(Bloomberg) -- Euro Stoxx 50 futures are up 0.4%, rising along with the euro, after Corriere della Sera reported the Italian government will bow to EU pressure and reduce its budget deficit targets. But let's be honest, even with Italian 10-year yields at their highest level since 2014, investors are far from being in panicking mode yet. After months of outflows, European equities might finally show some resilience and hope for a happy ending to the Italian drama.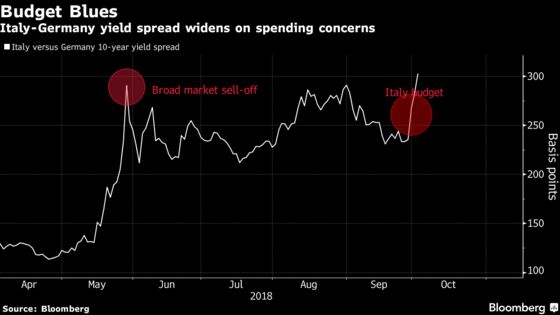 Also in Italy, results of the 5G auction came out last night, and mobile networks operators paid a very steep price for the frequencies. Telecom Italia, Vodafone and Iliad are the stocks to watch, with Bernstein saying there are "arguably no industrial winners" in the auction, barring the Italian government, Il Sole added Telecom Italia now needs to immediately find EU480m and another EU1.7b in 2022.
Today is the final day of the U.K. Conservative party annual conference, and so far there was nothing but noise coming out of it. The pound is holding around the $1.30 level and there is clear path to Brexit, Allianz U.K. portfolio manager Michael Riddell calling the whole thing 'a mess'.
The bright spot for the U.K. market could come for the hottest IPO of the year. Can Aston Martin repeat Ferrari's share price performance? Ferrari is often cited as a successful story as the stock has had a stellar 165% performance since its IPO in October 2015. Although looking back at the early days, Ferrari lost about 40% of its value in the first four months of trading, mostly because the initial valuation was rich.
Same skepticism was shown by analysts about Aston Martin, forcing the company to lower its ambitions in order to fill the order books. The IPO is priced at 19 pounds. The iconic James Bond carmaker doesn't yet deserve Ferrari's multiples according to Bloomberg Intelligence analysts, and as for a FTSE 100 integration, we'll have to wait and see if Aston Martin can shake or stir a rather depressed U.K. market.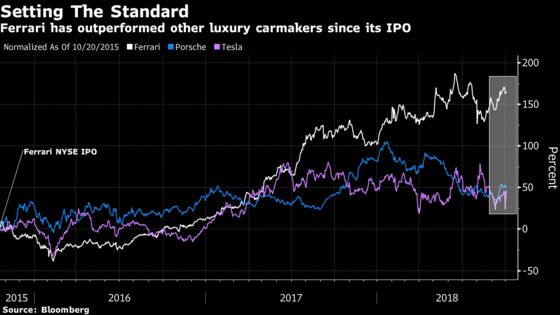 Elsewhere, Asian stocks are weaker following a volatile U.S. session that still had the Dow Jones make new record highs, as investors weighed continuing concerns in Italy and strength in commodity prices. Crude oil in New York holds above $75 a barrel, near the highest level in almost four years. Gold is resuming its rally and is back above $1,200.
"Year-to-date, European IPO deal volumes and proceeds are down substantially compared to 2017. The number of IPO's declined after the February market correction and never improved. The sluggish IPO scene is understandable amid political tensions and trade issues," Jasper Lawler, head of research at London Capital Group, writes in a note. "Contrary to the number of listings, first day 'pops' and post-listing performance have mostly exceeded expectations. Overall the pattern seems to be that IPO market activity is sluggish compared to last year but investor appetite for those that make it to IPO is strong."
NOTES FROM THE SELL SIDE:
Morgan Stanley believes concerns about Michelin on pricing and premium capacity are overdone, and raises the shares to overweight, with a EU120 target price.
RBC is a fan of Inditex. The bank upgraded the fashion chain to top pick and added it to RBC's Europe Equity Large Cap Best Ideas, saying the co. will benefit from a globally scalable store and online platform with best in class inventory control.
Jefferies has a note out on Swiss telecoms and they downgraded Swisscom to hold from buy, as they see little incremental upside from cost cutting. They keep a hold recommendation on rival Sunrise.
Tesco reported like-for-like U.K. sales for the second quarter that beat the average analyst estimate.
South Korea's Fair Trade Commission orders Linde and Praxair to sell assets if they want to proceed with their proposed merger, Yonhap reports, citing the antitrust regulator.
The recent clash between Italy's populist government and the European Union over its ballooning budget deficit has created an attractive buying opportunity for shorter duration Italian sovereign debt, according to UBS.
Italian Stocks Set to Recover on Report Budget Deficit to be Cut
Watch the Bidders in Italy's Record $7.6b 5G Airwaves Auction
Finnish Strike Forces Outokumpu, SSAB, Boliden Halt: Kauppalehti
Huub Baren's IPTE Plans EU1.60/Shr Offer for Rest Connect Group
Novartis Licenses Three Drug Candidates to Boston Pharma
Casino CEO Tells FT It'd Be Easy to Simplify Group Structure
Novo Considers Brain Disease Treatments With Partner: Berlingske
Polarcus 3Q Vessel Utilization 86% vs 92% Year Earlier
Vitrolife Sees 10% Revenue Boost Next Year From Illumina Deal
Schroders Set to Win Mandate of GBP109b Lloyds Portfolio: FT
Vodafone Eyes Philippine Entry, Wary of 'Shady Deals': Dioknov
Vale, BHP Reach Deal With Prosecutors on Brazil Dam Burst: Rtrs
AB InBev India Unit Accused of Avoiding Taxes Since 2011: Nikkei
Rio Says Copper Mkt. Finely Balanced, Future Deficit Emerging
Lukoil CEO Says Russia Has Reached Oil-Output Peak: Vedomosti
Sewing Says Deutsche Bank Needs U.S. Unit to Be German Champion
Mattress Firm Plans Bankruptcy Filing as Soon as This Week: Rtrs
Stadler Gets Less Than EU10m Severance, But Only if Cleared: SZ
TECHNICAL OUTLOOK for Stoxx 600 index:
Resistance at 383.5 (50-DMA); 384.2 (200-DMA)
Support at 379.9 (23.6% Fibo); 371.9 (Sept. low)
RSI: 49.9
TECHNICAL OUTLOOK for Euro Stoxx 50 index:
Resistance at 3,414 (50-DMA); 3,461 (200-DMA)
Support at 3,315 (38.2% Fibo); 3,274 (Sept. low)
RSI: 48.8
MAIN RESEARCH AND RATING CHANGES:
UPGRADES:
Altran raised to buy at Kepler Cheuvreux; Price Target 10 Euros
Banco BPM upgraded to hold at Berenberg
DSV upgraded to neutral at Goldman; PT 583 Kroner
Michelin upgraded to overweight at Morgan Stanley; PT 120 Euros
Telefonica Deutschland raised to neutral at Goldman
Befesa downgraded to neutral at JPMorgan; PT 46 Euros
BillerudKorsnas cut to hold at SEB Equities; PT 120 Kronor
Ferguson downgraded to neutral at JPMorgan; PT 63.50 Pounds
Finnair downgraded to reduce at Inderes; PT 7.25 Euros
Lufthansa downgraded to reduce at AlphaValue
NRC downgraded to hold at DNB Markets; PT 75 Kroner
SKF downgraded to underweight at Barclays; PT 155 Kronor
Sandvik downgraded to underweight at Barclays; PT 145 Kronor
Swisscom downgraded to hold at Jefferies
Veidekke downgraded to hold at DNB Markets; PT 95 Kroner
WH Smith downgraded to outperform at RBC
ConvaTec rated new buy at Jefferies; PT 2.80 Pounds
ID Logistics Group rated new buy at Kepler Cheuvreux
SolGold rated new buy at Liberum; PT 69 Pence
Solvay rated new buy at Jefferies; PT 151 Euros
Zalando rated new hold at Deutsche Bank
MSCI Asia Pacific down 0.8%, Nikkei 225 down 0.6%
S&P 500 little changed, Dow up 0.5%, Nasdaq down 0.5%
Euro up 0.27% at $1.1579
Dollar Index down 0.24% at 95.28
Yen down 0.12% at 113.79
Brent up 0.2% at $85/bbl, WTI up 0.2% to $75.4/bbl
LME 3m Copper little changed at $6281.5/MT
Gold spot up 0.1% at $1204.9/oz
US 10Yr yield up 1bp at 3.07%
MAIN MACRO DATA all times CET:
9:15am: (SP) Sept. Markit Spain Composite PMI, est. 53.1, prior 53
9:45am: (IT) Sept. Markit/ADACI Italy Composite PMI, est. 51.8, prior 51.7
9:50am: (FR) Sept. Markit France Composite PMI, est. 53.6, prior 53.6
9:55am: (GE) Sept. Markit/BME Germany Composite PMI, est. 55.3, prior 55.3
10am: (IT) 2Q Deficit to GDP YTD, prior 3.5%
10am: (EC) Sept. Markit Eurozone Composite PMI, est. 54.2, prior 54.2
10:30am: (UK) Sept. Markit/CIPS UK Composite PMI, est. 53.9, prior 54.2
11am: (EC) Aug. Retail Sales YoY, est. 1.7%, prior 1.1%