Cameco Suspends Production Indefinitely at Uranium Mine
(Bloomberg) -- Canada's Cameco Corp. extended the shutdown of one of the world's biggest uranium mines indefinitely and announced it will fire most workers at the operation until a global supply glut eases.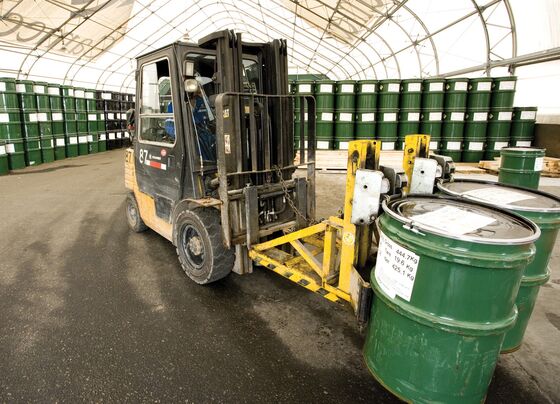 "We have not seen the improvement needed in the uranium market to restart McArthur River and Key Lake," Cameo Chief Executive Officer Tim Gitzel said Wednesday in a statement. "This means we will extend the suspension of production at McArthur River and Key Lake for an indeterminate duration."
Cameco expects to fire about 550 employees at the site and eliminate another 150 positions at its corporate headquarters, incurring severance costs of as much as C$45 million ($35 million), the Saskatoon, Saskatchewan-based company said.
Cameco had initially said last November that it was suspending operations at its flagship mine in Saskatchewan for 10 months beginning at the end of January -- a move that removed 13.7 million pounds of production and represented 9 percent of forecast global supply in 2018, Rob Chang, an analyst at Cantor Fitzgerald, had estimated at the time.
A uranium glut has weighed on the industry since the Fukushima disaster in 2011 led to the shuttering of Japan's nuclear reactors and a rethink of nuclear power worldwide. That's given an advantage to uranium buyers, who have tried to avoid locking themselves into long-term supply contracts at prices above those in a depressed spot market.
"This news is unprecedented but also somewhat expected as Cameco continues to take the lead in shutting down unprofitable production," Tyron Breytenbach, an analyst at Cormark Securities Inc., said in an email. "It is a clear sign that the spot uranium price is well below the real cost of mine production."
Uranium advanced 1.7 percent to $24.15 a pound on Wednesday on the New York Mercantile Exchange, the highest close since December. The fuel has averaged about $22.30 this year.
Prices could jump to between $28 and $30 a pound in the short term helped by Cameco's shutdown as well as financial entities buying up supplies and China's reactor buildout, according to Breytenbach. Kazakhstan, the world's largest uranium miner, will support prices at current levels and is ready to cut production again if the market were to fall any further, Kazakh Energy Minister Kanat Bozumbayev said in June.
"We will not produce from our tier-one assets to deliver into an oversupplied spot market," Cameco's Gitzel said in the statement. "Until we are able to commit our production under long-term contracts that provide an acceptable rate of return for our owners, we do not plan to restart."
In a normal year, McArthur produces about 18 million pounds a year, accounting for 15 percent of global production, Gitzel told BNN Bloomberg TV in Canada.
Cameco intends to buy 10 million pounds of uranium on the spot market next year to help fulfill contracted sales positions. "We're making moves on the supply side -- now we're going to go to the demand side as well," Gitzel said. "We'll see how deep the market actually is when we come out for 10 million pounds."
The U.S. opened an investigation this month into whether uranium imports threaten national security, a move that may lead to tariffs on the fuel. American producers want about 25 percent of the domestic market to be reserved for domestic miners, whose 2017 production was the lowest in at least 25 years.
"We thought it was ridiculous when we first heard it, but then we looked across the sectors to see the steel and aluminum sectors get hit by tariffs," Gitzel told BNN Bloomberg. "So nothing's out of question these days."
If the Trump administration went ahead with the tariffs, Cameco could ramp up U.S. output in 18 to 24 months, Gitzel said on a conference call Thursday. Under a requirement for 25 percent domestic production, Cameco's U.S. assets could come online at $50-$60 a pound and go up from there, he said. But Gitzel said they would only ramp up U.S. production if the market needed it.
Cameco rose 3.4 percent to C$14.74 at 12:19 p.m. in Toronto. The shares have climbed 27 percent this year.