Chinese Assets Haven't Been This Calm in Months
(Bloomberg) -- Chinese assets are the calmest in months as investors await news from the meeting between presidents Xi Jinping and Donald Trump at the Group of 20 summit in Buenos Aires on Saturday.
The yuan is the least volatile since December and the Shanghai Composite Index -- one of the world's worst performing stock markets -- is the calmest since May, when Chinese Vice Premier Liu He flew to Washington for talks that led to a brief pause in the trade dispute. With more tariff threats on the table, this next meeting marks a key moment in the relationship between the two countries and leaders.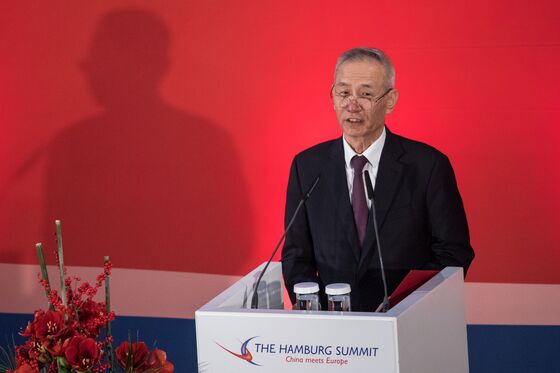 "The calmness is a choice of the market itself, not a result deliberately caused by the government," said Shen Zhengyang, a Shanghai-based analyst at Northeast Securities Co. "Economic growth is sliding, which is known to all and has been priced in the market. The biggest uncertainty is the Trump-Xi meeting, so people are waiting for that."
The presidents will meet over dinner Saturday evening. Trump's top economic adviser Larry Kudlow said Tuesday that the U.S. president, while hopeful for a breakthrough, is ready to impose more tariffs if the talks don't make progress. The U.S. announced a 10 percent tariff on $200 billion of Chinese goods in September and plans to raise that to 25 percent on Jan. 1. It has also threatened to put tariffs on all remaining Chinese imports. Beijing has imposed duties on U.S. products too.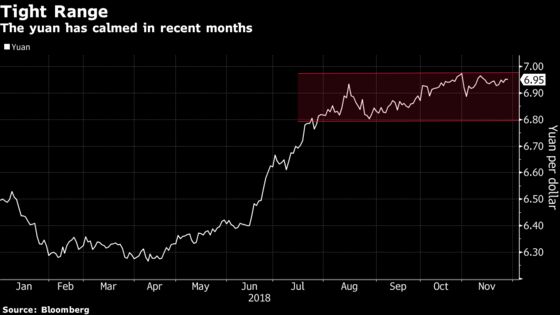 The Shanghai Composite Index got off to a slow start Wednesday morning before extending gains into the mid-day trading break, when it was up 0.9 percent, the most since Nov. 19. The measure has had a rotten year, sliding 22 percent as concern over the trade war weighed on sentiment. The yuan was little changed Wednesday morning, at 6.9529 per dollar. The currency, which slid around 10 percent from mid-April to mid-August, has traded in a tight range between 6.80 and 6.97 over the past three months. The yield on 10-year government bonds is also little changed this week.
"The market is very calm as investors await the G20 negotiation, which definitely is where the focus is on this week," said Liu Hong, senior analyst at Shanghai Orient Futures Co. "It is hard to tell what results the talks can achieve, but we see high possibility of rising market volatility after."
Moves in Hong Kong stocks are also fairly muted. The Hang Seng Index was up 0.9 percent at 11:35 a.m. local time, taking its gain for November to 6.4 percent. That puts the gauge in line for its best month since January, and first monthly gain in seven. As on the mainland, it's been a tough year for Hong Kong equities.
"The market is really quiet," said Linus Yip, a Hong Kong-based strategist at First Shanghai Securities. "Hong Kong's daily trading turnover fell to this year's low last Friday and didn't manage to exceed HK$80 billion in the past two days. That's a sign of calm or caution."