California Gasoline Use to Fall As State Reverses Reopening
(Bloomberg) -- Energy traders are paying less for gasoline in America's biggest fuel market as California imposes a new round of business closures to fight a spike in coronavirus cases.
Spot gasoline in Los Angeles and San Francisco fell to the lowest levels in almost two weeks after the state closed indoor dining and bars and two of the biggest school districts said they would offer remote learning only. Both markets had shown signs of weakness in the last few weeks as fresh concerns emerged about the renewed spread of the virus in the most populous U.S. state.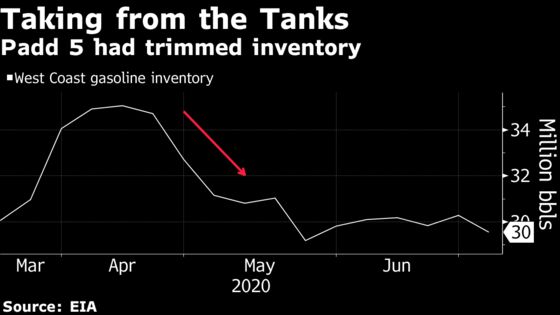 "This is going to have an impact on U.S. demand and, in a roundabout way, supply too," said Bob Yawger, director of the futures division at Mizuho Securities USA. "A good way to put it is that California will be a bellwether for the rest of the country."
Before the pandemic, drivers in California were consuming about 4.2 million gallons a day of gasoline. That number halved during the crisis, according to the latest Energy Information Administration data from April.
San Francisco regular Carbob fell 0.50 cents to 6.50 cents over NYMEX futures, while its LA equivalent saw its premium slip by 0.38 cents.
California is generally isolated from other U.S. oil markets with no dedicated inbound pipeline connections. Yet the impact of an expected decline in fuel demand there is likely to loom large.