California Carbon Sets Record Price in Cap-and-Trade Auction
(Bloomberg) -- California's cap-and-trade system for limiting greenhouse-gas emissions saw prices rise to a record in the latest quarterly auction, as hedge funds pile into the market. 
Allowances to emit one metric ton of carbon dioxide this year sold for $28.26 in last week's auction, the California Air Resources Board said Wednesday. Allowances that can be used in future years closed substantially higher, at $34.01. Both results represented hefty premiums over the offering price of $17.71.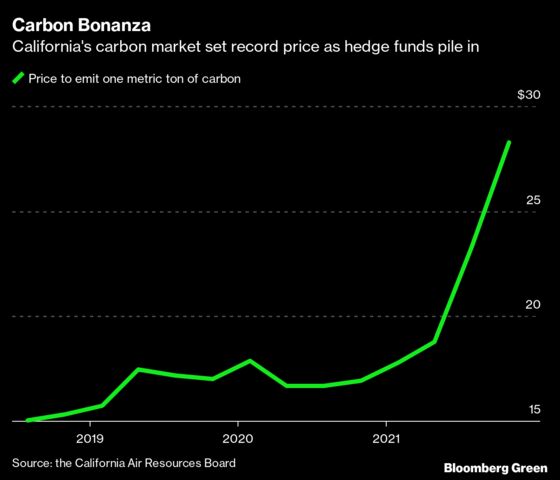 The system covers both California and the Canadian province of Quebec and includes quarterly, state-run auctions as well as a secondary market in which companies buy and sell allowances among themselves. Although most of the participating companies produce greenhouse gases and need to buy the allowances, financial institutions trading solely for profit have become increasingly involved. The auctions start with a floor price that rises 5% each year plus the rate of inflation, making the allowances an attractive investment.
In the previous quarterly auction, allowances to be used this year sold for $23.30, a record at the time.