By One Tesla Metric, Wall Street Has Never Been More Skeptical
(Bloomberg) -- The sharp rally in Tesla Inc. shares over the past couple of months has helped the electric-car maker's stock score its biggest ever gain over Wall Street analysts' average price target.
Tesla shares reached a record $429.99 on Thursday, after a big boost from Wedbush, while the average analyst's price target is about $297.
As the chart below shows, the spread between analysts' average price target and Tesla's share price is now the widest since the company's initial public offering in 2010.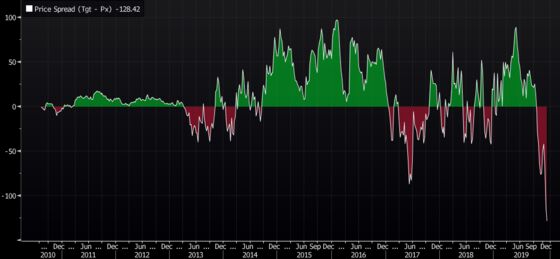 The company's current market value is more than $77 billion, implying that for CEO Elon Musk to be able to collect the first tranche of his compensation award, the stock would still need to rise another 30% and touch the $100 billion mark. The company has already fulfilled the operational milestones of at least $20 billion in revenue and $1.5 billion in adjusted Ebitda this year that were also part of Musk's compensation plan.