Buying a Marijuana ETF Gets Harder as Custody Shift Spooks Banks
(Bloomberg) -- U.S. investors could have a harder time buying into the pot stock rally because of a technical snag at one of the biggest cannabis exchange-traded funds.
Bank of America Corp. and Credit Suisse Group AG, two major banks that facilitate large purchases of the ETFMG Alternative Harvest ETF, which goes by the ticker MJ and owns pot producers, ceased accepting orders that require them to create new shares in the fund, according to people familiar with the matter. The banks made the move after MJ stopped using U.S. Bancorp as its custodian, the people said, asking not to be identified because the details are private, with one citing operational and settlement risks for the halt.
It's a wonky, but important, challenge for the $660 million fund. Big banks like Credit Suisse and Bank of America play a crucial role in shepherding assets into ETFs. They also help ensure that a fund's price never strays too far from its inherent value. While other middlemen, known as authorized participants, have continued creating new shares, losing two of the largest players in this space -- even temporarily -- risks hurting efficient trading.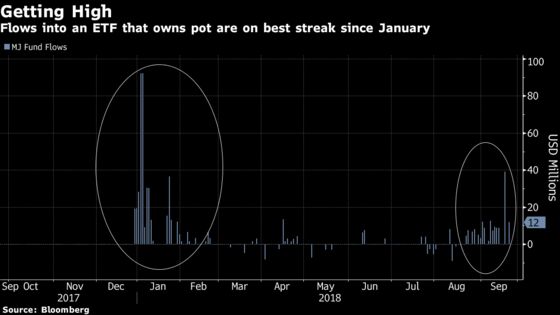 Sam Masucci, chief executive of ETF Managers Group, which runs MJ, declined to comment on any stoppage. But he said at least four of the nine authorized participants that the firm works with across its ETF business have created shares in MJ since the custody change. More than $50 million has flowed into MJ since Sept. 14, data compiled by Bloomberg show.
"The transition to our new service providers has gone extremely well," Masucci said. "We look forward to continuing to work with our third-party service providers on the fund, as well as all of the support we've seen at the adviser level and the market makers and authorized participants."
Selena Morris, a spokeswoman for Bank of America, declined to comment. Nicole Sharp, a spokeswoman for Credit Suisse, declined to comment. Natalie Svider, a spokeswoman for Wedbush Securities Inc., the fund's new custodian, also declined to comment.
The hiccup caps a rocky year. Cash flooded into MJ late last year after ETFMG abruptly changed the fund's strategy from investing in Latin America real estate to buying marijuana companies. But doubts persisted about whether U.S. Bancorp would remain custodian given the potential legal and reputational risks of the cannabis business.
ETFMG appointed Wedbush as the fund custodian from Sept. 17, the same day it engaged Computershare Trust Co. as its new transfer agent and named itself as the fund's administrator, the firm said in a filing. U.S. Bancorp previously did all three jobs. None of these companies is well known for playing these roles in the ETF market. Wedbush's experience with securities lending -- whereby a fund loans out some of its holdings to generate additional revenue -- was one reason it got the job, Masucci said.
The process of creation and redemption helps keep the price of an ETF in line with the value of its underlying stocks. If a fund is selling for more than its underlying securities, traders can buy the securities and deliver them to the ETF's authorized participant in exchange for new fund shares that they can sell for a premium, pocketing the difference. In this arbitrage, they also gradually bring the fund's price back in line with its underlying value.
Adding to the uncertainty for banks and other traders, since the switch the National Securities Clearing Corp., which most equity ETFs use to communicate with the market, hasn't published MJ's holdings or the stocks its managers will accept in return for creating new shares, three people familiar with the matter said. The NSCC relies on agents of the fund -- usually the custodian or transfer agent -- to send this information, which it then distributes to traders.
In the case of MJ, however, the fund's holdings are available on its website, with large investors advised to contact ETFMG's trade desk. Creation and redemption orders are placed through Bloomberg LP, using a tool called BSKT, the fund's website says.
Jim Binder, a spokesman for the NSCC, said the organization does not publicly disclose activity around specific securities and directed questions to MJ's issuer. Bloomberg LP, the parent of Bloomberg News, provides BSKT for the submission of creation and redemption orders to participating funds via the Bloomberg Terminal.