Buy Yen on Tail Risks as U.S. Slowdown Saps Dollar, BofAML Says
(Bloomberg) -- The yen will strengthen next year as a slowing U.S. economy weighs on the dollar and a range of global threats spur safety demand, according to Bank of America Merrill Lynch.
Intensifying geopolitical risks from Brexit and the dispute between the European Union and Italy may boost demand for Japan's currency, strategists including David Woo in New York wrote in a 2019 outlook report.
"We have been bullish USD/JPY this year, but we see the yen reversing course and strengthening against the dollar next year," the strategists said. "This is our first change in view on USD/JPY after turning bullish on the pair in September 2016."
Bank of America Merrill Lynch recommends shorting dollar-yen through options, betting that tail risks will emerge in the year ahead to support Japan's currency. At the same time it says any easing of the U.S.-China trade dispute or new American fiscal stimulus may benefit the dollar.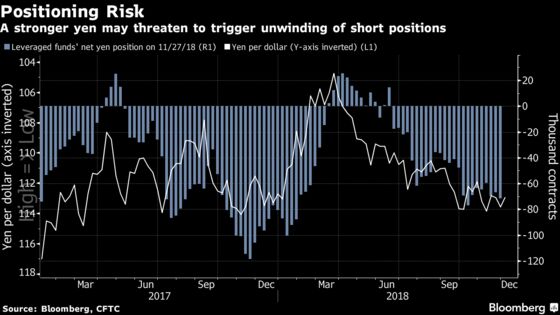 The dollar has strengthened against all its Group-of-10 peers this year as higher Federal Reserve interest rates and a U.S.-China trade war underpinned the currency. The yen has been the best performer versus the greenback among the group, losing just 0.3 percent to trade at 113.01 per dollar on Wednesday.
Bank of America Merrill Lynch also recommends selling the dollar against other low beta currencies such as the Swiss franc and euro. The yen and franc offer "the best risk-reward for USD shorts" as both benefit from increasing U.S. or European risks and are underpriced relative to China stress, the strategists said.
Here are some of BofAML's other views and trade recommendations:
Reduction in global trade tensions improves likelihood of a durable emerging-market rally, with the South African rand a preferred currency to play this theme
Sterling is more insulated from external factors and will benefit from avoidance of a hard Brexit outcome
Buy three-month volatility for the dollar-yen exchange rate
Bet on a flatter yield curve in two- to 10-year Treasuries
Buy six-month dollar-franc one-touch options that profit when pair reaches 0.93