Buy the Dip? The Worst May Be Just Over for Australian Stocks
(Bloomberg) -- Australian investors have been on a wild ride this month, but the worst may soon be over.
That's what some market watchers are betting on after a measure of S&P/ASX 200 Index swings almost doubled in October. The reason for the optimism? Australian shares have plunged too much given the strong domestic economy and earnings growth, and they're now trading at a bargain.
"Fundamentally, we don't have the makings of a bear market," said Eleanor Creagh, an Australian market strategist at Saxo Capital Markets. "There are quality companies with earnings expected to grow at over 30 percent throughout the next year."
Financial shares, which account for about a third of the S&P/ASX 200, have fueled an 8.1 percent plunge in the gauge since its decade high in August amid a softening housing market, tighter Federal Reserve policy and fears that Australian banks will have to pay more for their misdeeds. A gauge tracking the firms closed at a more than two-year low on Monday, coming close to entering a bear market after an almost 20 percent plunge from its May 2017 high.
The losses have pushed the valuation for the benchmark index to 14.4 times estimated earnings for the next 12 months, a three-year low, data compiled by Bloomberg show. What's more, the slump happened so quickly that the measure has reached oversold territory for the first time since 2016, potentially signaling a rebound might be in the cards.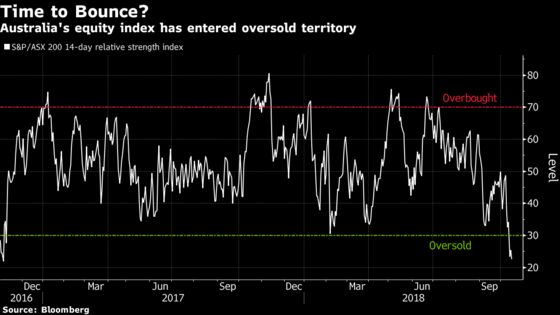 While the market may suffer some more in the short term -- the S&P/ASX 200 could fall to 5,750 in the next couple of weeks -- it may rally 6.2 percent from Monday's close through 6,200 by year-end, according to Saxo's Creagh.
Jun Bei Liu, a portfolio manager at Tribeca Investment Partners, is more skeptical. She expects the market to "trade sideways" as the weakness in Australia's housing market and slowdown of China's economy will keep hurting banks and miners, while growth stocks and some health-care companies remain "too expensive" given rising bond yields.
On the other hand, she sees some builders benefiting from the U.S. economic growth and Australia's infrastructure projects as "very interesting" after the sell-off.
"The broader market is cheap," said Karl Goody, a private wealth adviser at Shaw and Partners Ltd., who recommends paying close attention to bank results -- if the numbers are good, the nation's benchmark will rally. "Everyone is getting a little bit ahead of themselves. There's no fundamental change from three weeks ago."