ETFs Beloved by Mom and Pop Bleed Record Cash During Epic Rally
(Bloomberg) -- After hanging tough throughout this year's historic market swings, long-term investors pulled the plug on ETFs last month as stocks rallied the most in three decades.
Those exchange-traded funds suffered an almost $4.5 billion exodus in April -- the first monthly drawdown in six years and the most since at least 2013, according to data compiled by Bloomberg. Nearly $3 billion left the Vanguard S&P 500 ETF, or VOO, in the span as the U.S. equity benchmark soared more than 12%. It was the first withdrawal for the $133 billion fund since October.
During the furious sell-off in stocks last quarter amid the coronavirus pandemic, many retail buyers kept their faith in the market. As the S&P 500 bottomed on March 23, mom-and-pop darling VOO enjoyed three weeks of inflows. Since then, the trend has shifted -- with the fund seeing withdrawals week after week.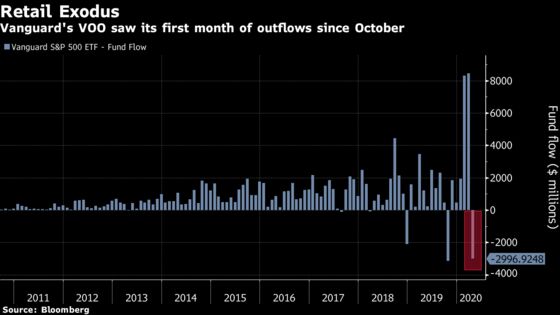 "The recent price recovery in VOO and other low-cost equity ETFs has provided them an opportunity to reduce their risk profile and take some profits if they are concerned that the impact of Covid-19 proves even larger," said Todd Rosenbluth, the New York-based head of ETF and mutual fund research at CFRA.
A flood of retail investors, although tiny individually, have collectively helped boost the rebound in stocks, with E*Trade Financial Corp., TD Ameritrade Holding Corp. and Charles Schwab Corp. seeing record sign-ups in the three months ending in March.
After the solid inflows, the recent withdrawals could also signal that ETF investors are rebalancing into bonds -- with some profit-taking, noted Eric Balchunas, an ETF analyst at Bloomberg Intelligence.
"Taking a little out of risk and putting into bonds would have been giving up if it were done mid-March," he said. "Doing it now smells more like rebalancing either by models or advisers."