Business as Usual on Wall Street, With Eye on D.C. Spectacle
(Bloomberg) -- Trading in U.S. equities remained robust even as Wall Street turned attention to the drama unfolding in Washington.
About 250,000 S&P 500 e-mini futures contracts changed hands in the 90 minutes after Brett Kavanaugh's Supreme Court hearing began at 10 a.m. The volume was 14 percent higher than the average day in the past three months, data compiled by Bloomberg show.
The lack of any impact on trading spotlights Wall Street's ability to look past the political spectacles that have become increasingly common. With national attention on a historic hearing that will shape the future of the Supreme Court, markets digested fresh economic data, the Federal Reserve's decision and earnings reports. While few expected any market impact from the hearing, the drama still garnered some trader eyeballs.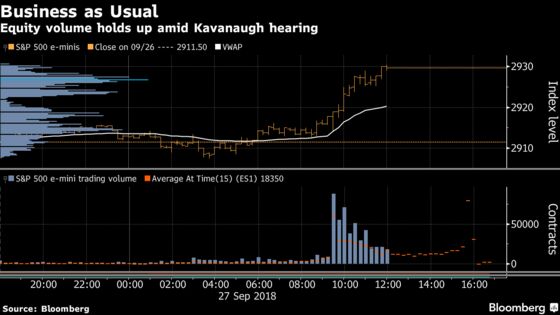 "People are probably going to be glued to the TV, but are these going to be things that move the markets?" said Jay Gragnani, head of research at Nasdaq Dorsey Wright. "So far the markets have been pretty resilient."
The S&P 500 cash index rose 0.5 percent at 11:32 a.m. in New York, hovering near an all-time high reached earlier this month, as investors continue to focus on economic data and look ahead to earnings season.
"I must admit, I've never thought the Kavanaugh hearing would have an impact on the markets," Matt Maley, an equity strategist at Miller Tabak & Co, said by phone. "I do think that Wall Street is able to look past these political issues."
Christine Blasey Ford is one of three women who publicly accused Kavanaugh, 53, of various forms of sexual misconduct. His answer has been the same, denial down the line. But even amidst the D.C. spectacle, Kim Forrest, a senior portfolio manager at Fort Pitt Capital Group in Pittsburgh, says she's paying more attention to her portfolios today. Midday she'll be giving a talk out of the office, away from the screens.
"I don't know that you need to do a minute-by-minute analysis of this," she said by phone. "We're talking money here and that's what people don't get. It doesn't have to do with politics. This is my job."
The hearings, taking place before the Senate Judiciary Committee, are expected to draw a large television crowd. Kavanaugh's interview on Fox News on Monday drew 3.6 million viewers, the biggest cable-news audience of the night. In 1991, more than 20 million homes watched Anita Hill testify before a Senate panel.
"It's on every channel, there is really no way to get away from it," Joseph Saluzzi, Themis Trading LLC partner and co-head of equity trading, said by phone. "It's in the background, but I have a job to do here."