Reversals in the Stock Market Are Landing With Record Force
(Bloomberg) -- Knowing when to get in and out of stocks is hard, even in the best of times. This year it's been an exercise in futility.
Already, traders have endured two sell-offs that while relatively shallow still rank among the fastest ever recorded from an all-time high, going by data from Sundial Capital Research. The first is long gone. The second just gave way to the biggest weekly rally since March.
Don't bother trying to get out of the way, says Bruce McCain, chief investment strategist at KeyBank. This late in a bull market, stocks are liable to reprice with blinding speed as markets assess the impact of rising interest rates and wage inflation. With the Nasdaq 100 Index almost 6 percent above its lows on Monday, the advice has seemed reasonable.
"We were not inclined to advise any action one way or another," McCain said by phone. "You want to ride this volatility through and do comparatively little. We're not seeing the signs that this cycle is coming close to the end."
Crowded Hedge Fund Trades: Bloomberg Reporters Talk Markets
Everyone knows you shouldn't time the market. What if you bail too soon? Missing roughly the 200 best days between 1928 and 2010 cut annual returns in equities from positive 4.9 percent to minus 7.1 percent, a study by Cambria Investment Management said.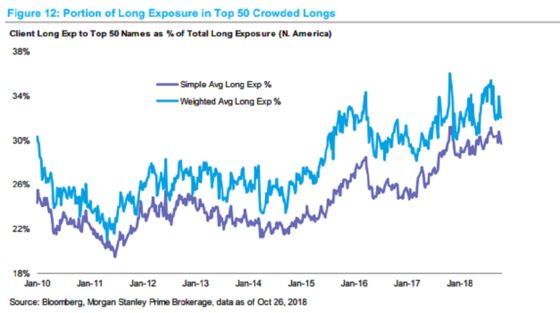 At Harris Associates in Chicago, Win Murray tunes it all out. His firm's $19 billion Oakmark Fund owns Alphabet and Netflix, both of which plummeted in October as traders bailed out of the companies that led the bull market.
"We're not going to look at any given six-week period, which is part of a wonderful multi-year period, and say 'Oh gosh, what's wrong?"' said Murray, director of U.S. research at Harris. "You can't just look at sentiment."
By now it's accepted wisdom that "crowded trades" like Alphabet and Netflix were at ground zero of the sell-off. Too many hedge funds were chasing too few stocks and everyone got out of the pool at once. A month in, is there reason to believe the concentration has eased? Some, though the evidence is mixed.
JPMorgan's prime brokerage unit found that "net exposure" among hedge funds, a measure of how much long positions exceed shorts with leverage factored in, dropped from a near record in September to the lowest since 2015 as the downdraft rolled on. Strategists there said chances were rising that a "squeeze" would lift stocks in November and December.
At the same time, going by data from Morgan Stanley's brokerage unit for institutions, crowdedness remains well above its historic average. Just before Monday's bottom, the 50 most popular stocks still made up 32 percent of long positions among hedge fund clients. While that was down from a peak of 35 percent in August, it's still above 87 percent of readings since the bank began tracking the data in 2010.
The idea that crowded trades exacerbate routs is popular but its logic isn't universally accepted. After all, every share that is sold is bought by someone else, and a case can be made that outsize ownership by hedge funds signals a company is doing something right.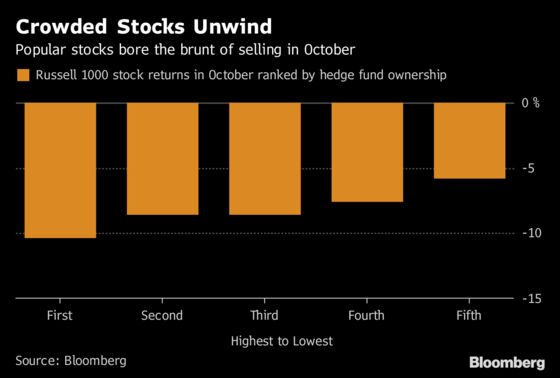 "That hedge funds didn't take their exposure down says to me that they believe in their core positions," Benjamin Dunn, president of the portfolio-consulting practice at Alpha Theory, said by phone. "There has been very little fundamental news out of this reason to sway most of the investors that I speak to from their thesis in any direction."
Another way of framing it is that the same excesses that gave rise to October haven't been cured.
"Maybe we've had a modest reset, but the extent to which investors are jumping back into some of the most crowded names tells me that we are far from some sort of capitulation," said Gina Martin Adams, chief equity strategist at Bloomberg Intelligence. "I am amazed at how everyone is trying to get back into the FANGs again, with the exclusion of Facebook."
Investors looking to explain October's volatility have a lot of choices, everything from tightening financial conditions to trade angst and lackluster earnings. But the one force that comes closest to tying it together is concentration. Stocks that the biggest investors love got demolished.
The key in an environment like that is resisting your emotions, says Frank Ingarra. His firm, NorthCoast Asset Management in Greenwich, Connecticut, had 20 percent of its money in cash at the start of October. They sent half of that into the downdraft, buying banks and drugmakers in free fall.
"When the market goes up, down, up, down, we don't want to go from buy to sell to buy every day," said Ingarra, head trader at NorthCoast. "As a human, you generally want to buy when you're feeling good about the markets. But as an investor you want to do the opposite."