Bullish Strategists Go Unheeded as Doctors Drive Market Moves
(Bloomberg) -- Stock markets are once again at the mercy of news from the medical front, as a chorus of reassuring messages from strategists is failing to soothe investor concerns about omicron. 
JPMorgan Chase & Co., UBS Global Wealth Management and BlackRock's Investment Institute are among those recommending that clients stay invested in equities with the rally set to continue. Markets, however, are much more interested in what epidemiologists, doctors and vaccine developers have to say.
European and Asian stocks slid on Tuesday after Moderna Inc.'s top executives reiterated that the omicron strain may evade the protection offered by existing coronavirus vaccines. Monday's stock-market rebound, meanwhile, came after an interview given by South African doctor Angelique Coetzee, in which she described omicron's symptoms as mild.
Scientists are more important than strategists in the next three weeks, Mizuho multi-asset strategist Peter Chatwell said in written comments, citing the Moderna's CEO's market impact on Tuesday. "I think it's going to be a material drop. I just don't know how much because we need to wait for the data," he said, adding that all the scientists he has spoken to have said "this is not going to be good."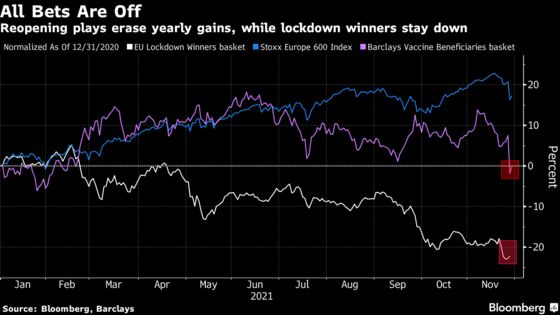 The weight given to comments from medical professionals contrasts with those of bullish market strategists and fund managers, whose recommendations are so far being sidelined.
"We maintain the direction of travel is to continue to add to equity positions rather than run for the hills," said James Penny, U.K. chief investment officer at TAM Asset Management. Alessandro Barison, a portfolio manager at HI Numen Credit Fund, concurs: "This is not March 2020, we are much better equipped to live with Covid, omicron might have an impact on growth, but we think mostly impacting the travel and aerospace industry." 
Among the questions at the top of investors' minds are whether the new strain will be as virulent as its predecessors, forcing new restrictions on economic activity, and whether it will displace existing variants. 
If a less virulent strain dominates, this may even spell good news for markets, as it will reduce the risk of restrictions -- perhaps for good. Meanwhile, strategists are also counting on the support of central banks and governments in a less benign scenario. 
For now, however, investors are holding fire on buying the dip. And, with valuations stretched following a rally that pushed U.S. and European stocks to successive record highs this year, some strategists say the knee-jerk reaction to a string of bad news shouldn't surprise.
"There are a number of questions going forward and I wouldn't be surprised if investors are using omicron worries as an excuse to sell," Mattias Sundling, chief equity strategist at Handelsbanken Capital Markets, said by phone.