Bullish on Stocks in 2019? Just 'Wishful Thinking,' Investec Says
(Bloomberg) -- Global stocks recovered more than $1.4 trillion of value in November, and many market watchers are hoping for more gains. Investec Asset Management Ltd.'s Philip Saunders says there's "too much wishful thinking."
According to him, next year won't be easy for traders. Rebounds? Possible, but not a turnaround. Investors should use any relief rally to sell shares if they can't deal with volatility. The co-head of multi-assets growth at Investec estimates U.S. equities might drop more than 25 percent from their September peak -- in another words, they may enter a bear market. And things could be even worse for Asia.
Saunders' prediction for Asian equities contrasts with market players including Allianz Global Investors and UBP Asset Management Asia Ltd., who said cheap stock prices could help propel a recovery. With the Asian benchmark down 12 percent this year, shares in the region are trading near a record discount to their U.S. peers.
"If U.S. equities have a tough time, do you honestly believe that you should be switching out of U.S. equities and go into other markets because they are going to have different experiences?" said Saunders, noting that Asian markets tend to fall more than the U.S. during corrections. His firm had $141 billion under management as of September. "They are in the same boat."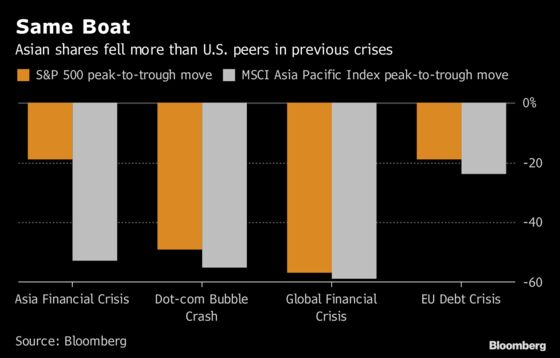 Here's why he's being cautious for next year:
While there won't be an "outright recession," Saunders says he struggles to find any growth engine to re-accelerate the world economy.
"We are going to be in an environment where we think growth will decelerate further in response to more restrictive liquidity conditions, fading U.S. fiscal support and trade concerns."
U.S. Stocks to Drop Further

The economic expansion in the U.S. will slow down, and corporate margins may peak next year, in Saunders' view. Buybacks, which helped drive the bull run, could also dwindle as some company balance sheets may "get uncomfortable."
"U.S. equities are still overvalued in aggregate, and tech leadership is failing," he said. "Without leadership, or if leadership goes to the downside, then we are clearly in a correction environment. The debate is: how deep is that correction going to be?"
Monetary and fiscal policies are likely to be eased further in China, though the effect may be more muted than in the past, according to Saunders. Tax cuts or more infrastructure spending may be needed, but the authorities should be careful with them as the nation's debt is already high.
"We want to see growth stabilizing, and it may well be that China goes back to the same form of capital-investment stimulus. We don't think this is very healthy, but if growth becomes too weak that might be inevitable."
His recommendations? If you're a long-term investor, there might be opportunities to accumulate some stocks with strong fundamentals, Saunders said. But forget about it if you're in for the short term and can't stand volatility -- in that case, sell into the rallies.
Here are some other of his calls:
Positive on North Asian equities in the next three to five years
Prefers Chinese stocks that will benefit from industry consolidation, improving profitability and better balance sheets; also favors Asian shares that have attractive absolute and relative valuations, with a focus on profitability
Says trade pressure from the U.S. should speed up reform momentum in China as it makes the transition to a growth model more centered on domestic demand and higher-end manufacturing
Sees interesting opportunities emerging from the Asia credit universe
Gold may be a "surprise" next year: Positions on gold have been cleared out, so if the macro environment gets rough amid volatility and a growth slowdown, defensive assets such as the precious metal may benefit
Here's what other market pros are betting on: