Bullish Insiders Snap Up Their Companies' Stocks as Others Flee
(Bloomberg) -- The sell-off that's shaken stock markets worldwide this month hasn't included one set of investors in the know: corporate insiders.
The value of shares in their own firms that managers and directors have bought globally in October is triple the value that insiders sold, the highest ratio in at least a decade, based on month-end figures, according to filings compiled by 2iQ Research.
"When the buy-sell ratio is three, it's astonishing," said Patrick Hable, a Frankfurt-based managing partner at the data provider. "Globally ex-U.S., there's quite a bullish sentiment."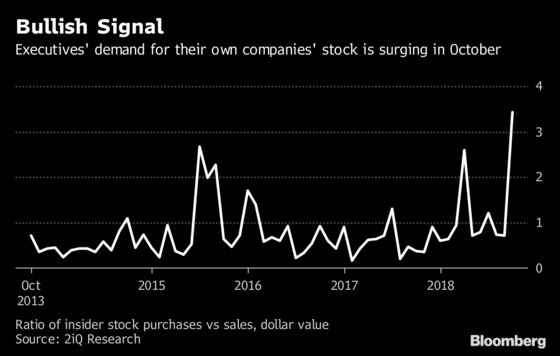 Top-level managers' share purchases in companies they work for are a good sign, showing that those with superior knowledge of the business find the stock cheap. The buy-sell ratio surged last week, 2iQ data show, as other investors dumped equities worldwide amid concerns over monetary tightening and economic growth.
The one market where there's been little change in behavior has been the U.S., where disposals still exceed purchases. That's also been the global pattern for the past 10 years, on average.
In the U.S., volumes have been muted due to the blackout period before earnings releases, and insider selling is typically higher because there's more stock-related compensation and higher insider ownership than in other countries, Hable said.