Bull-Market Return Is Dented, But Kind of Hard to Complain About
(Bloomberg) -- Day-to-day, minute-to-minute, it's overwhelming. The coronavirus panic is as bad a trauma as investors have faced in a decade. Pull back the lens a little, and it becomes slightly easier to handle.
Here's a chart that illustrates how a hypothetical investor who bought at the bottom of the financial crisis has felt at various times in the bull market. It plots annualized returns in the S&P 500 since March 9, 2009, at all the points over the last 10 or so years.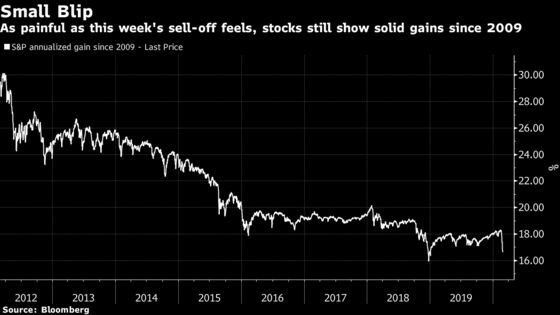 Note that while the recent plunge has taken a toll, it's still a long way from torpedoing the gains. At 16.6%, the return over time is down from 18.3% at the February peak. That's a lot of money over a decade, but it's tough to call it a bad outcome.
Of course, this is extremely hypothetical, starting at a bottom that would've required superhuman prescience to pick -- almost nobody can claim this experience. But the chart should also be a curb on desperate thinking. Unless you are relatively new to the market, the events of the last few days should be viewed with a bit more perspective over time.