Stock Bull Market Is Near, Yet Traders Unconvinced Worst Is Over
(Bloomberg) -- After meltdowns and lockdowns, some Asian equity markets are inching close to breaking out of bear territory. But it'll take a more sustained period of recovery before investors are convinced the worst is over.
Asian stocks rose again on Friday, following the U.S. higher after the Dow Jones Industrial Average climbed out of its bear market overnight. The MSCI Asia Pacific index has risen 14% from its March low is on track for the best week since 1998. Japan's Topix and Korea's Kospi were at about 18% above their recent lows.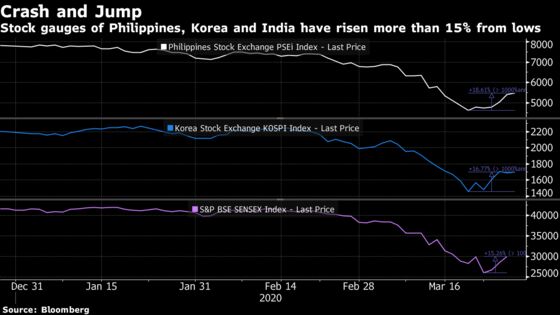 "The 20% yardstick does not matter unless we start seeing higher highs and sustainable buying at lows," said Jaiganesh Balasubramaniam, a market technician at Cashthechaos.com. "We need higher highs and higher lows on different time frames before we can say that we are out of bear markets."
Balasubramaniam added that the S&P 500 Index has yet to mark a 20% gain from its recent trough so "investors should not go berserk about attaching bull market titles."
Meanwhile, some investors have been hunting for bargains after historic drops in the region's equities. The Asian gauge is set for its fourth straight day of gains amid unprecedented monetary and fiscal stimulus across the globe in a bid to contain the economic damage caused by the coronavirus pandemic.
Volatility, however, remains high, with the 10-day realized measure on the Asian equity benchmark still around the highest since data going back to 2010.
"It's foolhardy to jump into a volatile market that has only risen for a few days after falling so heavily," said Dale Gillham, chief analyst at Wealth Within. "It is very dangerous."