Builder Puts Past Plunge Behind It to Become Spain's Best Stock
After a terrible few years for investors in Spanish construction company Obrascon Huarte Lain SA, 2019 brought a little hope. Now 2020 is offering some more.
OHL shares are the best-performing stock in Spain this year, rising 37% in the first 11 trading days and building on last year's 63% advance, before paring gains on Friday. To put that into context, the stock is still 92% lower than it was at end of 2013.
OHL bonds have also strengthened this year, helped by the buyout of a rival by a Chinese firm. The 323 million euros ($359 million) of unsecured bonds maturing in March 2022 have risen 8 cents on the euro to 79 cents in 2020, according to Bloomberg data.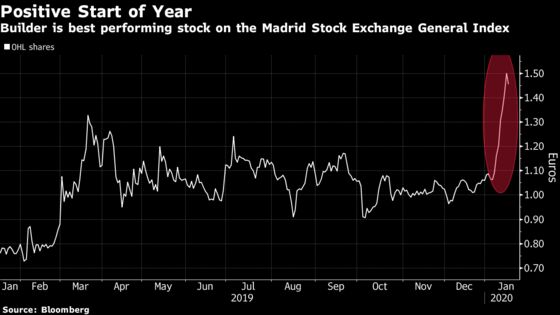 The builder, whose largest shareholder is the powerful Villar Mir family, saw its value decimated over five years as it struggled with high debt and troubled projects that led to losses and a suspension of dividend payments. In the last 12 months, it's been on a comeback, boosted by the Villar Mirs discussing the sale of a stake to Mexico's Amodio family along with stabilizing margins, which has prompted many short sellers to close or reduce their positions, Ignacio Cantos, investment director at ATL Capital in Madrid, said by phone.
As of this month, Melqart Asset Management was the only short seller above the 0.5% disclosure threshold with a 0.95% short position, according to data published by Spanish securities regulator CNMV. That's down from 2019 when at least seven funds were above the threshold at some point during the year.
"The entrance of a new shareholder would be positive as it would offer stabilization to the company," Cantos said of the possible Amodio stake purchase.