Buffett Is Not Alone: U.S. Oil Deals Double in Value in a Year
(Bloomberg) -- Warren Buffett isn't alone in seeking a profit from U.S. oil merger activity.
The total value of mergers and acquisitions where U.S. oil and gas companies were targets or sellers almost doubled over the past 12 months, reaching $317.7 billion, according to data compiled by Bloomberg. It's not that there have been more deals -- there were actually fewer than in the previous 12 months -- but they are getting bigger.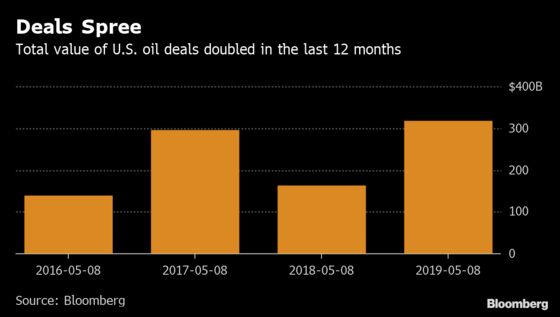 Occidental Petroleum Corp.'s sweetened $38 billion takeover bid for Anadarko Petroleum Corp., which took a dramatic turn last month when Buffett injected $10 billion in Occidental to help it fend off a rival offer from Chevron Corp., would make it the largest deal in the industry in at least four years.
America's shale industry, with its beating heart in the Permian Basin of Texas and New Mexico, has taken center stage in the global oil market as it propelled the U.S. back to its long-lost post of world's biggest producer. To make sure they remain competitive, though, independent wildcatters are increasingly welcoming consolidation to improve efficiency and the drilling and fracking technology they use.
"It's become more expensive and technologically complex to drill and that gives majors and super majors an advantage over the smaller independent firm now," said Omar Samji, partner at law firm Shearman & Sterling LLP.
The number of deals totaled 550, about 4 percent fewer than in the previous 12 months, the data show. The average size of each transaction rose to about $578 million from $284 million.
It's an encouragement that benchmark U.S. crude prices have jumped 46 percent since late December, and that analysts from JPMorgan Chase & Co. to Citigroup Inc. expect them to rise further this year.