Buckle Up, China Investors. This Gauge Flags a Tough Year Ahead
(Bloomberg) -- Investors betting on China's stocks rarely react to the nation's economic releases, even to the key ones such as the gross domestic product. But a less noticed figure may point to a tough year ahead for corporate revenue.
The year-on-year growth of nominal GDP -- or the economic expansion pace unadjusted for inflation -- will slow by more than 2 percentage points this year, according to UBS Group AG, from the 2018 level hovering near 10 percent. That's because the rapidly weakening factory inflation will weigh on the economy-wide price pressures.
While real GDP growth shows the overall health of the economy and comparable to other nations, the nominal GDP signals trends in corporate revenue and government tax receipts, as those are based on the nominal money flows. That expansion also shows how well businesses and governments are going to service their massive pile of debts.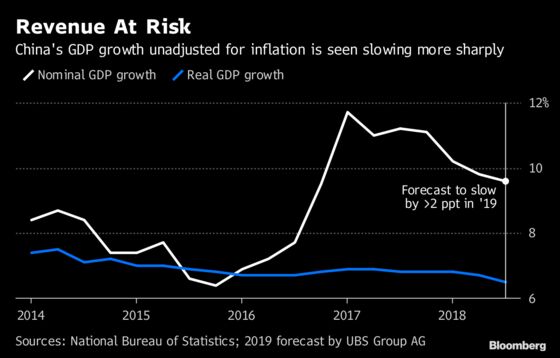 That's "especially important for equity investors," Wang Tao, head of China economic research at UBS Group AG in Hong Kong, wrote in a Thursday note. That drop is more than five times the deceleration in headline GDP growth, which she sees at 6.1 percent this year versus 6.5 percent last year.
Corporate profits are already under pressure, as shown in the industrial enterprise profit growth which turned negative in November, and a private gauge of corporate earnings remaining in the contraction zone for four months in a row.
China is going to release gross domestic product data for the fourth quarter on Monday, potentially containing evidence that factory and consumption momentum have been further hurt by the trade tensions and slowing global recovery.