Brutal Month Has China Analysts Rethinking Everything Yet Again
(Bloomberg) -- Optimism about the initial trade deal lasted all of a month on the mainland, with the deadly coronavirus causing China watchers to junk recently revised predictions.
Investment banks have trimmed stock-index targets while sovereign-bond analysts -- who had expected the benchmark 10-year yield to rise in early 2020 -- are now bracing for a possible decline to levels not seen since 2002. Some yuan experts say more weakness can be expected this quarter before a rebound, and forecasts for first-quarter economic growth in China have been slashed.
The virus outbreak, which began in the central city of Wuhan and has infected over 30,000 people, has shaken the rosier economic outlook China ended 2019 with. That view helped form the basis of early January's market rally. But as onshore traders returned to work after an extended holiday this week, catching up to market moves elsewhere created the biggest price swings in four years for Chinese stocks.
"It's quite challenging to do forecasts now," said Tommy Xie, an economist at Oversea-Chinese Banking Corp. "There's no choice -- we have to change our first-quarter forecast." For the second half of 2020, "most people are taking a wait-and-see approach on how the situation evolves from here."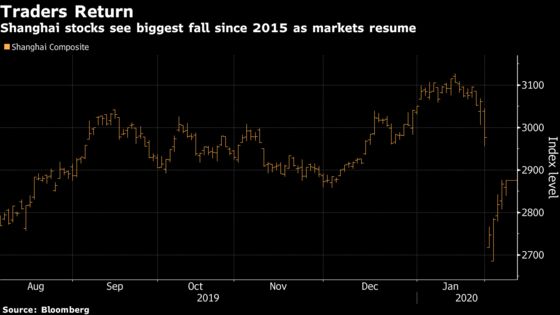 After a record $720 billion sell-off Monday, China's equity market steadied with four days of gains. Continuing to outperform were smaller stocks, with the tech-heavy ChiNext Index quickly erasing its start-of-week slide and returning to levels not seen since the end of 2016. Trade optimism returned Thursday, after China said it will halve tariffs on some $75 billion of imports from the U.S. under the interim deal.
But pressure is likely to persist for equities, according to Goldman Sachs strategists including Timothy Moe, who cut earnings-growth forecasts and equity-index targets across Asia. Sell-offs due to virus outbreaks can last one to three months, and stocks usually trough when there's news of infections peaking, they said in a note. Credit Suisse said new virus cases are expected to start declining by the end of February.
Meanwhile, the yield on China's most actively traded 10-year government bond posted its biggest weekly decline in five years on haven demand. The notes were also the best performers in the world this week.
The jolt follows a staid 2019, when the yield's trading range was the tightest since 2012, and a January during which steadying economic growth, a supply surge of local-government bonds and elevated inflation drove forecasts that yields would rise this year.
The yuan also saw a big move Monday, weakening past 7 per dollar. It spent the next three sessions retracing some of its decline before weakening back to 7 on Friday. Mansoor Mohi-uddin, a senior macro strategist at Natwest Markets Plc, sees the yuan rising to as strong as 6.65 per dollar this year as the virus crisis abates and if U.S. President Donald Trump further reduces tariffs on Chinese imports.
But Stephen Innes, chief market strategist at AxiCorp, is now betting the currency will weaken to at least 7.05 per dollar in offshore trading near term. He makes that call after turning optimistic on the yuan in December.
"I think we will remain in a constant state of risk-on, risk-off for the rest of the year," he said. "Even when the peak virus passes, we will deal with the horrible knock-on effects for China's economy. Then we pivot to U.S. election risk, all the while the phase-two trade deal simmers on the back burner."