Brussels Edition: Flexing Europe's Muscles
(Bloomberg) -- Welcome to the Brussels Edition, Bloomberg's daily briefing on what matters most in the heart of the European Union.
Europe is trying to pull more weight in international affairs. It's about to launch a special purpose vehicle to contend with U.S. sanctions against Iran, in defiance of Donald Trump. Venezuelan strongman  Nicolas Maduro has been handed an ultimatum by Brussels to announce free elections within days, while the European Commission may get the green light tomorrow to start the process of revoking Cambodia's tariff-free access to the bloc's markets. Showing your teeth is one thing, but whether they're sharp enough is another question 

— Nikos Chrysoloras and Jonathan Stearns
Iran Funding | EU government envoys in Brussels meet this morning to discuss a joint communique welcoming the imminent launch of the Iranian funding vehicle. Spain has so far objected to the wording as it vies to join the club of EU powers dealing with Iran. In the draft communique, Italy had slipped into the exclusive club which includes Germany, France and the U.K. — much to Madrid's annoyance. 
Brexit Votes | Speaking of Brexit, it's "a war of all against all," as a wise Englishman once put it, with different factions at the House of Commons jostling to push their version of the optimal outcome in negotiations. A new series of votes is scheduled for tomorrow amid lingering doubts in Brussels that any of this will help clarify the situation for businesses or bewildered negotiators. 
Rail Merger | Siemens and Alstom are making a last-ditch push to address the EU's antitrust concerns and bring their controversial rail merger back on track. Their 11th hour concessions include the sale of signaling assets as well as longer licensing agreements, seeking to sway Margrethe Vestager in allowing the deal to go through. It's a long shot.
Huawei Risks | The EU's digital chief, Andrus Ansip, is urging the bloc's member states to consider the risk of partnering with Chinese companies like Huawei. While stopping short of asking governments to ban Huawei from 5G network contracts, Ansip warned that a Chinese law mandating companies to support and assist national intelligence should be taken into account when assessing the danger of espionage in critical infrastructure. 
Macedonian Fallout | Say what you like about the specifics of the Macedonian compromise, but it's win for the West, Eleni Chrepa reports. By paving the way for North Macedonia to join NATO and — eventually — the EU, the deal pulls the Balkan nation away from Vladimir Putin's sphere of influence and anchors it firmly in Europe's camp.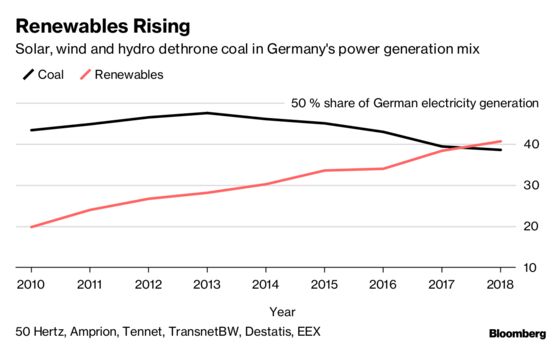 While renewable energy dethroned coal's dominance in Germany's power mix last year, 120-odd coal plants still generated almost 40 percent of the power. A commission set up by Chancellor Angela Merkel proposes quitting the dirtiest fossil fuel in two decades, the latest step in the country's tumultuous transition to renewable energy. The recommendation, subject to amendment by government and parliament, is intended to help Germany make up lost ground in meeting its emissions targets. 
8:30 a.m. The EU's agriculture and fisheries ministers meet in Brussels to discuss reform of the bloc's Common Agricultural Policy post 2020, dual quality of foodstuffs, establishment of an international center for antimicrobial resistance solutions

3 p.m.  ECB President Mario Draghi appears in the European Parliament's ECON committee. The hearing is split in two: The first part is in his capacity as ECB President, the second as ESRB chair 

3 p.m. Sabine Weyand, Deputy Chief Brexit Negotiator for the EU, speaks at EPC event 

8 p.m. EU Commission President Jean-Claude Juncker delivers a speech at the "Europa-Konferenz der deutschsprachigen Landesparlamente"

EU Commission Vice President Andrus Ansip, Commissioner Vĕra Jourová meet Nick Clegg, vice-president of global affairs and communications of Facebook

6 p.m. EU Commissioner Günther H. Oettinger delivers the speech "Democracies in stress tests – before the EU elections" at the Bertelsmann Stiftung in Berlin

Italian Finance Minister Giovanni Tria travels to Washington and New York for an official visit including talks with Council of Economic Advisers Chairman Kevin Hassett, Treasury Secretary Steven Mnuchin, IMF representatives
Chancellor Angela Merkel receives the 2018 J. William Fulbright Prize for International Understanding and makes a speech in Berlin