Brussels Edition: Boosting the Euro
(Bloomberg) -- Welcome to the Brussels Edition, Bloomberg's daily briefing on what matters most in the heart of the European Union.
Less than a decade after the financial crisis that nearly tore the euro area apart, a long-anticipated push to buttress the currency bloc is entering its final stretch. Finance ministers gather in Brussels today for their final meeting on the matter before passing the baton to their leaders, who are expected to strike a deal later this month. Yet despite agreement on a couple of key issues, the compromise that's been taking shape may well underwhelm supporters of the sweeping vision set out by French President Emmanuel Macron last year.
Budget Debate | Euro-area finance ministers will also discuss their draft budgets and the European Commission's assessment of spending plans. Italy is likely to feature prominently, even though ministers probably won't decide on a disciplinary process until early next year. Some reprieve may come from Buenos Aires, where Italian Prime Minister Giuseppe Conte signaled optimism that his government would reach an agreement with the commission.
Climate Talks | Envoys from almost 200 countries will convene in Katowice, Poland, for an annual conference on tackling global warming. Delegates to the meeting will seek to transform pledges made in Paris three years ago into an international rulebook aimed at curbing greenhouse gas emissions. While the Paris Agreement has focused attention on the scale of the cuts needed to control fossil fuel pollution, there's growing resistance to the hard choices required.
Vodafone Deadline | Vodafone has until midnight tonight to offer early-stage concessions in the EU's review of its deal to take over Liberty Global's assets in Germany and three other European countries. Not offering remedies early to allay antitrust concerns often signals that companies are expecting a probe of at least four months. While telecoms deals usually get a tough time, Deutsche Telekom's unconditional approval last week for its Dutch deal provided rare hope.
G-20 & Trade Truce | Leaders of the world's largest economies agreed the global system of rules that's underpinned trade for decades is flawed, in a post-Group of 20 summit statement that the White House quickly claimed as a win for Donald Trump's protectionist agenda. While some officials said just having a statement was a good result, the watered-down language suggests further tests ahead. Meantime, Trump's pact with Chinese President Xi Jinping to stop an escalation of the trade war boosted stock markets in Asia.
Brexit Battle | U.K. Prime Minister Theresa May dismissed questions about her future and pledged to be the prime minister to take the U.K. out of the EU, even as her Brexit plans face wide opposition. The deal May sealed with the bloc looks certain to be rejected by parliament in a Dec. 11 vote, an outcome that would also endanger her leadership of the Conservative Party — and of the country. Still, the British premier got a rare boost yesterday when key Brexiteer Michael Gove said that backing the "imperfect" agreement is the right thing to do.
ECB Posts | When European Central Bank policy makers cast a secret ballot to select a new supervisory head, it was with their future leadership on their minds. Their choice could have repercussions for other senior appointments in 2019, including that of the bank's chief economist. Expect intense political horse-trading as governments seek to make those appointments, especially after European Parliament elections in May that could see populist gains.
Deutsche Options | After working feverishly for months to accelerate a turnaround plan for Deutsche Bank, Chief Executive Officer Christian Sewing is dealing with the repercussions of a police raid on the bank's headquarters, including the offices of its entire management board. Days earlier, the company was sucked deeper into another money laundering scandal at Danske Bank. Here's a look at some scenarios for the lender.
Danske Question | A key question for Danske Bank remains whether it was used by anyone on U.S. sanctions lists, a scenario it hasn't yet completely ruled out. According to a litigation analyst, the wording of the charge sheet against Danske raises questions about potential sanctions breaches, which U.S. prosecutors have historically viewed particularly severely.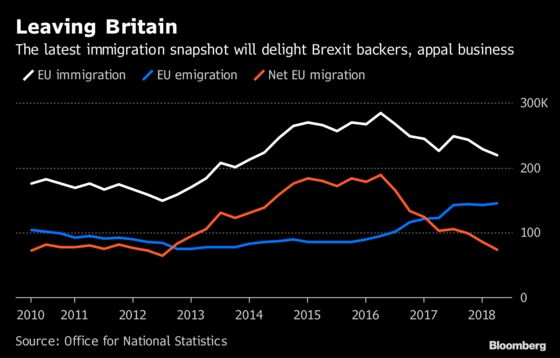 Net immigration from the European Union to Britain fell to the lowest level in six years as the U.K. came closer to leaving the bloc. An estimated 74,000 EU citizens moved to the U.K. in the year ended June 30, a level not seen since 2012, according to the Office for National Statistics. During the same period, the net inflow of non-EU citizens was 248,000, the highest level in 14 years, the ONS said.
3 p.m. Euro-area finance ministers meet in Brussels to discuss countries' budget plans and euro-area reform
9:30 a.m. Transport, Telecommunications and Energy ministers meet in Brussels
Vodafone/Liberty phase 1 remedies deadline at midnight
EU finance chiefs Valdis Dombrovskis and Pierre Moscovici participate in "The #EUROat20: an extraordinary journey" event in Brussels
Envoys from almost 200 countries convene in Katowice, Poland, for annual UN conference on global warming