Brown's Endowment Posts 13.2% Gain, Best in Ivy League So Far
(Bloomberg) -- Brown University posted an investment gain of 13.2 percent, the top performance among five Ivy League schools that have reported results.
The fund's value rose to a record $3.8 billion in the year through June 30, the Providence, Rhode Island-based school said Tuesday in a statement.
Brown, with the smallest fund in the eight-member league, outperformed the largest, Harvard University, which returned 10 percent. Brown also bested four other Ivies, including Yale University. Princeton University, Cornell University and Columbia University haven't posted results yet.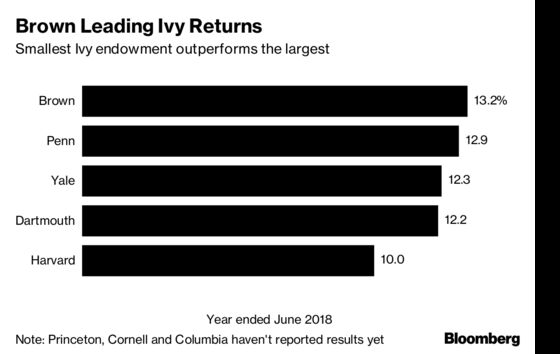 Brown's performance also surpassed a median 8.3 percent gain for 143 endowments of all sizes in the period, according to preliminary data by Cambridge Associates.
Brown didn't disclose strategies used, asset allocation or performance by asset class. Returns were driven by "continued strength from global stock markets," according to the statement. Other elite schools have reported double-digit gains driven by strong private equity and venture capital returns.
The fund returned an annualized 8.3 percent for three years; 9.2 percent for five years and 5.9 percent for 10 years. "The endowment is conservatively invested in a diverse portfolio designed to accommodate a broad set of economic scenarios," according to the statement.
The fund is overseen by Joseph Dowling III, who was promoted to chief executive officer in July.
"We are fortunate both to partner with outstanding investment managers who navigate the markets skillfully and to be guided by an Investment Committee of exceptionally knowledgeable investors," Jane Dietze, the university's vice president and chief investment officer, said in the statement.