Brokers Wary of Trading Snags as China's Stocks Go Global
(Bloomberg) -- China's stock market will finally join MSCI Inc.'s global indexes on June 1, but there are still some sticking points that worry brokers and could cause a trading upset.
Among the concerns are the Shanghai Stock Exchange's lack of a closing auction -- which index-tracking funds often use to get the day's final price -- and whether brokers have sufficient capacity with Hong Kong's bourse to be able to send what could be as much as $40 billion worth of orders north, according to traders in the city.
MSCI's decision to add mainland-listed shares to its international benchmarks after the close on May 31 is a landmark for the world's second-biggest market, boosting efforts by China's leadership to integrate into the global financial system. Much of the buying will be through Hong Kong's links to exchanges in Shanghai and Shenzhen, and authorities in the city and in Beijing will be looking for a smooth ride as investors purchase the 234 mainland stocks chosen by MSCI for their portfolios.
"We have been planning for inclusion for several months, mapping out trading capacity and planning with the broker community," Simon Williams, head of Asia-Pacific equity trading at BlackRock Inc., said by phone. "Very few clients will not trade the benchmark on inclusion day."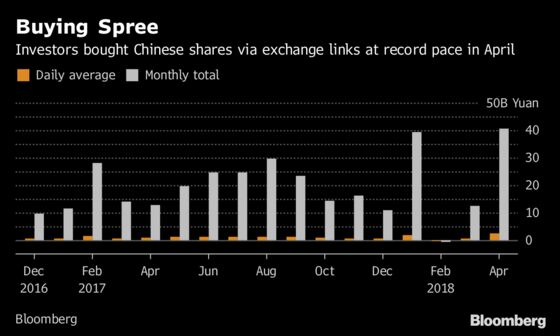 The biggest worry for brokers in Hong Kong is whether they will be able to send all their orders to the mainland around inclusion day. While authorities quadrupled the daily net buying quota through the links, traders have concerns about their capacity to place orders at Hong Kong Exchanges & Clearing Ltd., which manages the southern side of the stock connect.
Lyndon Chao, head of equities at the Asia Securities Industry & Financial Markets Association, said one of the worries is from unanticipated orders from clients. He said Asifma has tried to persuade HKEX to loosen its rules and allow easier access for the period around inclusion, with its members resistant to buying extra capacity that may never be used again. The bourse said in response to a query that it won't change its position.
Investors including BlackRock's Williams and David Rogers, managing director and head of trading for Asia Pacific at State Street Global Advisors, a unit of State Street Corp., said they had secured capacity with brokers to ensure their trades get through.
Inclusion day will be the first time many international investors will trade Chinese stocks; a study by Investment Technology Group Inc. found that only 70 out of more than 200 non-Chinese institutional managers had traded mainland equities in the past five years.
Distiller Kweichow Moutai Co. and the mainland shares of Industrial & Commercial Bank of China Ltd. are among the stocks that will be added to the MSCI Emerging Markets Index, the New York-based firm said on May 14.
The biggest adjustment for fund managers may be the absence of a closing auction in Shanghai. Passive funds, which are most likely to buy shares on June 1 to stay close to MSCI's indexes, prefer auctions, where they can send orders and be assured of buying or selling at the day's final price. MSCI has called for China to enhance closing auction systems, saying it would help foreign investors.
"International markets have more of a smile curve, with a lot more liquidity going through the open and an equal amount going through the close," Nikki Tanner, head of Asia Pacific market structure at Deutsche Bank AG, said in an interview.
The dominance of retail investors in China-- they account for an estimated 80 percent of volume -- also means trading patterns are more consistent through the day, she said. That means investors need to rethink how they approach the closing session and instead trade regularly through the day, said Tanner, who estimated that MSCI inclusion will mean $20 billion to $40 billion of flows into the mainland market.