Brokerages Hit by Margin Calls Are Rushing for Dollars in Korea
(Bloomberg) -- South Korean brokerages are getting hit by a surge in margin calls on their dollar-denominated derivatives positions, prompting a rush for greenbacks that has drawn scrutiny from financial regulators and contributed to a dramatic plunge in the won.
Korean officials contacted several brokerages this week to check on an unusual jump in dollar purchases, a person familiar with the matter said, asking not to be identified because they aren't authorized to speak publicly. The brokerages responded that they needed the currency to meet margin calls on positions used to hedge their exposure to structured products, the person said.
The dollar grab sheds light on one cause of this week's dramatic tumble in South Korea's currency, which sank to the weakest level since 2009 on Thursday.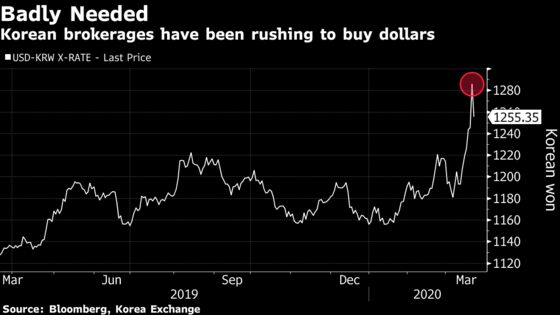 While market turmoil tied to the coronavirus pandemic has sparked a rush for dollars globally in recent days, the pressure on Korean brokerages has been particularly acute because of their role in the nation's $84 billion structured-products market.
Brokerages designed many of the products to track offshore stock indexes and other dollar-denominated assets, using derivatives to manage their risk to market swings. Some of those positions are now moving against them amid a historic surge in volatility around the world.
Dollar purchases by Korean brokerages may have swelled to at least $8 billion over the past two weeks as the firms topped up their margins, according to Lee Hyo Seob, research fellow at the Korea Capital Market Institute.
Whether brokerages can recoup losses on their dollar-denominated hedges will depend on the depth and duration of the sell-off in global markets.
They may get some relief after South Korea's central bank was one of nine to establish a new dollar liquidity-swap line with the Federal Reserve. The move helped fuel a 3% rebound in the won on Friday.
"It's true that there's been an inflow from local brokerages into U.S. dollars recently," Korea's finance ministry said in a response to questions from Bloomberg News. "But it didn't have a significant impact on the market. The liquidity in the foreign currency market is solid now."
Still, some investors are growing increasingly concerned about the brokerage industry's potential exposure to structured products. Shares of Samsung Securities Co. have tumbled 30% this month -- outpacing losses in Korea's benchmark Kospi index -- and touched a 15-year low on Friday.
The country's top five issuers of structured products are Mirae Asset Daewoo Co., Samsung Securities Co., Korea Investment & Securities Co., KB Securities, and Shinhan Investment Corp., according to Korea Securities Depository. All five firms declined to comment.