British Airways Owner's Stock Rally Hit by Fuel, Covid Headwinds
British Airways parent IAG SA's shares are wiping out much of the past month's gains on growing concerns about fuel prices, Covid-19 infections and a potential hike in airport fees.
IAG fell as much as 4.7% Wednesday, and is on track for its worst three-day decline in almost a year. 
"Rising cases in the U.K. and higher oil prices are weighing on IAG shares, and undermining the return to profitability," Luca Rescigno, a portfolio manager at Marzotto SIM, said in written comments.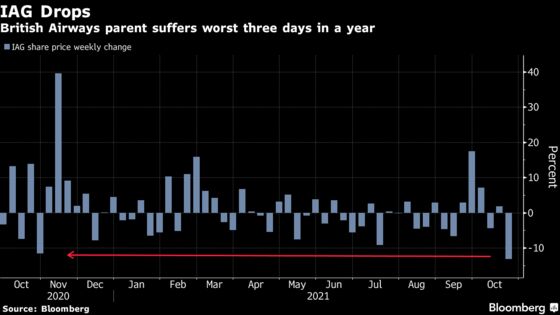 Peel Hunt analyst Alex Paterson cut his rating on the shares to hold from buy, citing a 19% jump in jet fuel prices in just a month. While an easing of U.S. travel restrictions should boost demand, "we do not expect yields to rise sufficiently quickly to mitigate the fuel cost pressure, which may worsen and be exacerbated by higher airport charges," he wrote in a note.
The U.K.'s Civil Aviation Authority said Tuesday it would allow London's Heathrow airport to increase charges by as much as 56%, spurring a backlash from airlines. Britain's government, meanwhile, is hoping to avoid the re-imposition of pandemic restrictions, with new daily coronavirus cases persisting above 30,000 since early September. 
Still, for Rescigno, the fuel price spike remains the biggest risk. "There are probably easier stories -- such as airports -- to play the reopening trade, that are less affected by surging oil prices," he said.
IAG's peers also fell Wednesday, with Deutsche Lufthansa AG and Air France-KLM dropping as much as 3.7% and 2.5%, respectively.