London Stock Exchange Bid Is Latest in String of U.K. Deals
If the appetite for U.K. equities is still pretty weak among asset managers, that's not the case for overseas companies. While Brexit has dominated headlines lately, another major theme has been the sale of U.K. Plc. The latest target is the venerable London Stock Exchange, which can trace its roots back to 1698. As Britain's divorce appears to near its conclusion, the trend might continue.
British stocks have fallen like dominoes, with Greene King, Cobham, Entertainment One, Just Eat, Inmarsat and BCA Marketplace all receiving bids in recent months. A Brexit-weakened currency, depressed equity valuations, cash-rich private equity buyers and yield hungry investors, are some of the reasons behind the M&A wave.
"There is a broader story here," says Edward Park, deputy chief investment officer at Brooks Macdonald Asset Management. Most mergers are driven by idiosyncratic factors, he says. However the depressed pound and the underperformance of U.K. equities have made the nation's assets a fertile hunting ground, particularly for international businesses looking to diversify or expand into new markets, Park explains.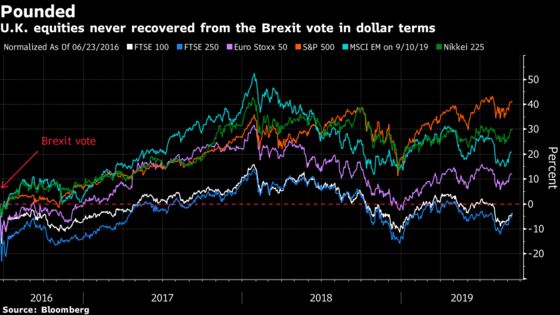 By enfeebling the pound, Brexit has led to more foreign swoops on U.K. firms, says Chris Beauchamp, chief market analyst at IG. If the takeover of LSE is successful, which is far from certain with the FT reporting this morning the exchange is set to reject the offer, it would mark the departure of one of the best-performing shares on the FTSE since the Brexit vote in 2016, further shrinking the pool of firms successfully navigating the post-referendum world, he adds.
Whatever happens politically, U.K. assets will probably be sought after by longer-term investors given their valuations and reasonable quality, says Roger Jones, head of equities at London and Capital Asset Management.
The valuation discount between Britain and the rest of the world continues to widen, as the stocks never recovered from the Brexit vote. In terms of price-to-earnings, the MSCI UK is the cheapest among major indexes, even cheaper than emerging markets.
| | |
| --- | --- |
| Index | Est. P/E |
| MSCI U.K. | 12.8 |
| MSCI EM | 13.1 |
| MSCI Asia (ex-Japan) | 14.0 |
| MSCI Europe (ex-U.K.) | 15.2 |
| MSCI U.S. | 18.4 |
| Source: Bloomberg | |
A HKEX/LSE combination would create the third-largest operator globally. But the proposed takeover may head toward a dead-end, according to Mathias Lascar, an event-driven sales trader at Makor Securities. "This deal is highly political and we don't see how -- since a deal with Deutsche Boerse failed to succeed partly on political grounds -- a deal with the HK exchange can succeed in the current environment," he said.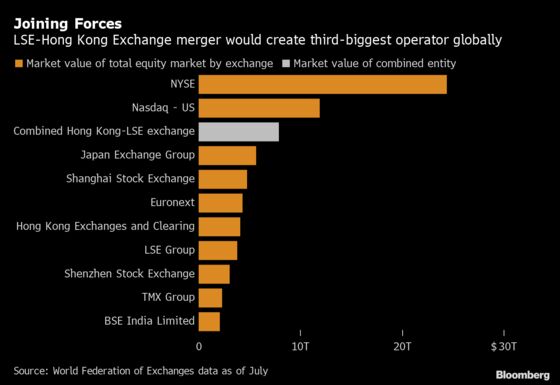 Indeed, buying the LSE may not be a walk in the park. The government could choose to block the deal on national security or public interest grounds. Separately, the Competition and Markets Authority, the U.K. antitrust regulator, is studying whether the acquisition of Inmarsat by a consortium of funds led by Apax Partners raises public interest concerns or could endanger national security. There's also been a plethora of calls for a similar treatment of defense company Cobham, which is subject to a bid from another private equity firm, Advent International.
HKEX's takeover proposal is also conditional on the termination of LSE's planned acquisition of Refinitiv -- another thorny issue, given the warm welcome to that deal by shareholders and analysts.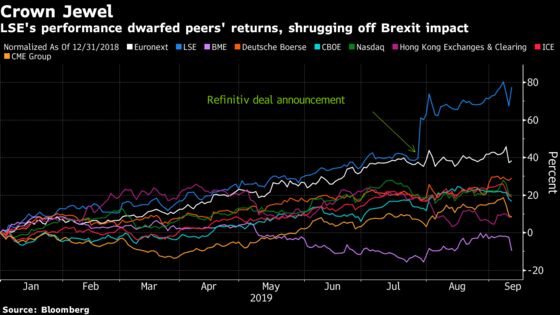 There's yet another possible outcome for LSE. This takeover attempt could trigger a counter offer from a U.S. peer, such as Intercontinental Exchange, which could potentially realize higher synergies from a combination, according to analysts. That may come at a price though, as the LSE is the most expensive exchange out there.
Exchange
Est.
P/E
Est.
EV/Ebitda
LSE
36.3
18.9
Euronext
18.5
16.5
Deutsche Boerse
23.1
16.0
CBOE
25.1
15.8
ICE
23.8
16.8
CME
30.3
24.4
HKEC
32.1
20.3
Average
27.0
18.4
Source: Bloomberg
In the meantime, Euro Stoxx 50 futures are up 0.5% ahead of the European open, while S&P 500 contracts are up 0.2%.
Watch trade-sensitive stocks after U.S. President Donald Trump delayed the imposition of extra tariffs on Chinese goods by two weeks. The extra 5% tariffs will now be imposed on Oct. 15 instead of Oct. 1 as a "gesture of good will," Trump wrote on Twitter. Watch miners, steelmakers, semiconductors, autos and other cyclical segments like industrials and chemicals.
Watch tobacco stocks including BAT and Imperial Brands, following a vow for tougher U.S. scrutiny of vaping products and as Senate Democrats seek to raise taxes on e-cigarettes.
"While the likelihood of an imminent no deal Brexit has subsided, it remains a material risk," Citi strategist Robert Buckland writes in a note. "We don't think that it would hit the FTSE 100's EPS particularly hard and would buy into further weakness. Domestic-exposed stocks would likely be hit harder than the multinationals."
NOTES FROM THE SELL SIDE:
Jungheinrich is initiated with an overweight rating, and is preferred over equal-weight rated Kion in the warehousing and forklift truck market sphere, Morgan Stanley says, setting PT at EU26.
Future initiated at buy and Euromoney set at hold as Berenberg increases its U.K. mid-cap media coverage to 10 stocks, with most in this "eclectic mix" seen offering strong operating margins and high return on capital. Future named among top picks with Ascential and YouGov, with least-preferred Moneysupermarket the only sell, Berenberg says in note.
Morrison 1H Rev. Below Estimate; Firms Up Amazon Partnership (1)
AB InBev Said to Target $5 Billion in Asian Unit IPO This Month
Bouygues: 13% Alstom Stake Sold at EU37/Shr Vs EU39.38 Close
BAT to Cut 2,300 Jobs by 2020
London Stock Exchange Set to Reject Hong Kong Bid, FT Says (1)

HKEX Bid for LSE Could Face U.S. Scrutiny: Telegraph

Capgemini Won't Budge on Altran Price, CEO Says: Les Echos
Knorr-Bremse Maintains FY Revenue EU6.88 Bln To EU7.08 Bln
Rovio Lowers 2019 Profit Outlook
HSBC Prepares to Unload French Retail Bank, DJ Says
BBVA Seeks to Sell Almost EU5B of Unpaid Loans: Confidencial
UBS's Weber Says France Legal Matter May Take Some Time
Remy Cointreau Names Richemont's Vallat as CEO in Luxury Push
National Grid Cut Jobs Months Before U.K. Blackout: Guardian
Rio to Face Pressure on Scope 3 Emissions, Campaign Group Says
Telia Acting CEO Sees Bonnier Deal Closed Before Year-End: DI
Sports Direct to Start GBP30m Buyback Program Sept. 12
TECHNICAL OUTLOOK for Stoxx 600 index:
Resistance at 395.1 (July high); 397.9 (June 2018 high)
Support at 381.1 (50-DMA); 372.6 (200-DMA); 365.5 (50% Fibo)
RSI: 66.3
TECHNICAL OUTLOOK for Euro Stoxx 50 index:
Resistance at 3,573 (July high); 3,596 (May 2018 high)
Support at 3,435 (50-DMA); 3,403 (61.8% Fibo); 3,321 (200-DMA)
RSI: 65.8
MAIN RESEARCH AND RATING CHANGES:
UPGRADES:
4imprint upgraded to buy at Berenberg
AIB Group upgraded to buy at Goldman; PT 3.40 Euros
DNB upgraded to buy at Goldman; PT 200 Kroner
Genmab upgraded to overweight at JPMorgan; PT 1,500 Kroner
Nornickel GDRs upgraded to overweight at JPMorgan; PT $28
Zurich Ins. upgraded to buy at SocGen; PT 425 Francs
Accor downgraded to underweight at JPMorgan; PT 35.50 Euros
Bank of Ireland downgraded to sell at Goldman; PT 3.50 Euros
InterContinental Hotels cut to underweight at JPMorgan
Lloyds downgraded to sell at Goldman; PT 47 Pence
SAF Holland cut to sell at Quirin Privatbank AG; PT 7.40 Euros
Skanska cut to sell at Handelsbanken; Price Target 175 Kronor
Veidekke downgraded to hold at Handelsbanken; PT 100 Kroner
Ascential rated new hold at Liberum; PT 3.80 Pounds
Euromoney rated new hold at Berenberg; PT 14 Pounds
Future PLC rated new buy at Berenberg; PT 15.30 Pounds
Garofalo Health Care rated new outperform at Mediobanca SpA
Jungheinrich rated new overweight at Morgan Stanley; PT 26 Euros
Marzocchi Pompe rated new outperform at MainFirst; PT 5.80 Euros
Norsk Hydro rated new underweight at Barclays; PT 26 Kroner
MSCI Asia Pacific up 1%, Nikkei 225 up 1%
S&P 500 up 0.7%, Dow up 0.8%, Nasdaq up 1.1%
Euro up 0.03% at $1.1013
Dollar Index down 0.02% at 98.63
Yen down 0.17% at 108
Brent up 0.8% at $61.3/bbl, WTI up 1% to $56.3/bbl
LME 3m Copper up 1.2% at $5843/MT
Gold spot up 0% at $1497.9/oz
US 10Yr yield up 1bps at 1.75%
ECONOMIC DATA (All times CET):
8:45am: (FR) Aug. CPI EU Harmonized MoM, est. 0.5%, prior 0.5%
8:45am: (FR) Aug. CPI EU Harmonized YoY, est. 1.2%, prior 1.2%
8:45am: (FR) Aug. CPI MoM, est. 0.5%, prior 0.5%
8:45am: (FR) Aug. CPI YoY, est. 1.1%, prior 1.1%
8:45am: (FR) Aug. CPI Ex-Tobacco Index, est. 104.38, prior 103.91
9am: (SP) July House transactions YoY, prior -9.0%
10am: (IT) 2Q Unemployment Rate Quarterly, est. 10.0%, prior 10.4%
11am: (EC) July Industrial Production SA MoM, est. -0.1%, prior -1.6%
11am: (EC) July Industrial Production WDA YoY, est. -1.4%, prior -2.6%