Go Defensive in Asean Stocks, Strategists Say
(Bloomberg) -- With a little less than a quarter left of a year that's already witnessed a trade war between the world's two largest economies, higher oil prices and a still ongoing emerging-markets rout, what's an investor in Southeast Asia to do?
For Morgan Stanley, DBS Group Holdings Ltd. and Nomura Holdings Inc., the answer is simple: double down on defensive trades in Singapore and Thailand as the rest of 2018 may see more hiccups. The MSCI Asean Index, which tracks markets across the region, sank to its lowest level since March 2017 last week as a rout ravaged equities worldwide.
"In Asean, we face the same challenges with trying to pick safer markets, particularly with the Fed tightening," Sean Gardiner, a Southeast Asian equity strategist at Morgan Stanley said in an interview. Singapore and Thailand have better balance of payments and will be able to work through that, he said.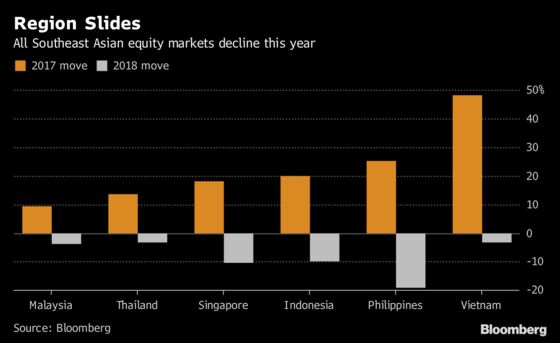 Higher interest rates in the U.S. have sent the dollar surging -- triggering a slump in currencies from the region's nations. The Indonesian rupiah is hovering around its weakest level since 1998, while the Philippine peso has plunged as the nation faces its fastest inflation in more than nine years.
Gardiner favors banks in Singapore, which have seen net interest margins expand with rising interest rates, and Thai energy stocks that can benefit from higher oil prices. Even after a jump this year, major oil trading houses are predicting the return of $100 crude for the first time since 2014 as OPEC and its allies struggle to compensate for U.S. sanctions on Iran's exports. Tensions between the U.S. and Saudi Arabia may also ratchet up a notch after the disappearance of a journalist working for the Washington Post.
Thai shares may also get a lift from upcoming elections expected to be held in February, according to Joanne Goh, an equity strategist at DBS who has overweight ratings on Singapore and Thailand for the quarter.
"That could help the market risk appetite come back," she said of Thailand. "There is often a lot of stimulus for the economy pre-elections. And right now, the economy has bottomed out with a consumption recovery getting some traction."
She expects the Vietnamese stock market to remain one of the best performers in Southeast Asia as it may benefit from the trade war between the world's two largest economies. That's because many of China's manufacturing activities can be diverted to Vietnam, she said.
Looking to 2019, Nomura's regional strategist Chetan Seth says investors can reconsider markets such as Indonesia and the Philippines. Their benchmark indexes have fallen more than 9 percent this year, with the Philippine Stock Exchange becoming one of the world's biggest decliners among equity gauges.
"At some point in time in the fourth quarter, all these issues get priced in," he said by phone. You'll want to be in markets with higher earnings growth rates, he said.
Here are the strategists' preferred plays:
Firm
Sectors 
Morgan Stanley

Singapore banks 
Thai energy stocks 

DBS

Singapore banks, plantation, oil & gas companies 
Thai tourism, consumer, oil & gas shares 
Indonesia banks and consumer stocks
Malaysia banks

Nomura

Singapore banks, dividend stocks 
Thai tourism and health-care shares 
Indonesia banks
Malaysia banks on consumer confidence 
Philippine banks and property with stronger earnings growth