Bridgewater's Patterson Says Demand Shock Is Driving Inflation
(Bloomberg) -- Bridgewater Associates's Rebecca Patterson offers a surprising reason for the surge in consumer prices, disputing the idea that a choked supply line is the cause.
"This really was a demand shock more than a supply shock," the firm's senior investor told Bloomberg TV's Surveillance on Wednesday. "We have more ships than ever on the ocean. Ports are processing more imports than ever in the U.S. It's just that the demand is that strong. Supply can't keep up, and the release valve, if you will, will be higher wages, higher inflation. What we see in earnings season is, so far, most companies can pass that on."
Patterson said the Federal Reserve's easy monetary policy and all the fiscal stimulus provided by the government created "extraordinary" demand. The result was an increase in U.S. savings and net wealth that supported spending, she added.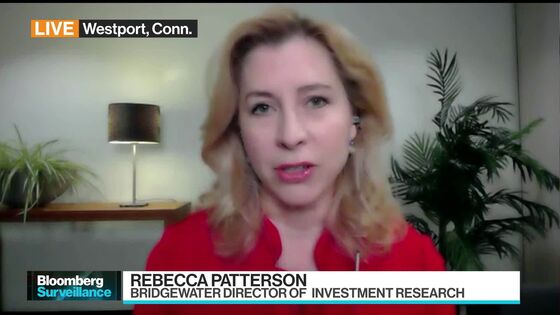 Bridgewater remains "constructive" on the dollar against certain currencies and equities, especially financials, Patterson said. "We have been positioning our portfolio for assets that would benefit from higher inflation and higher yields."
But she is wary that the Fed's planned withdrawal of liquidity from the financial system and eventual rate increases will be a challenge for some companies. 
"What has been a huge tailwind is slowly starting to turn into a headwind," Patterson said. "Technology would be an area we keep an eye on."