Bridgewater, RenTech Make $13 Billion in a Grim Year for Hedge Funds
(Bloomberg) -- Ray Dalio's Bridgewater Associates and Jim Simons' Renaissance Technologies beat their rivals in a tough year for hedge funds in 2018, making a combined $13 billion for their investors.
The profits accounted for more than half the money generated by the top 20 managers last year, according to estimates by LCH Investments NV, a fund of hedge funds. Firms outside that top group lost more than $64 billion as stock declines and volatility took their toll.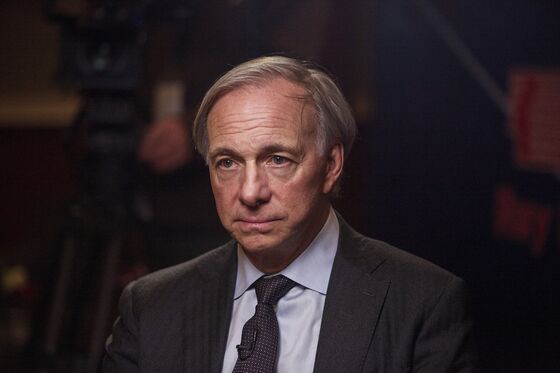 "Most managers in the top 20 either managed to stay out of trouble when equity markets fell sharply toward year-end, or had an investment approach that was not linked to the direction of equity markets," said Rick Sopher, chairman of LCH.
Both Bridgewater and Renaissance are well-diversified funds that can benefit from rising and falling stocks. The industry as a whole put in its worst performance last year since 2011, with several big names including T. Boone Pickens exiting the market.
Six in ten hedge funds lost money, the highest proportion since the financial crisis, as a sharp spurt in volatility made it tougher to make profitable bets. About 40 percent of the funds tracked by Preqin lost more than 5 percent, with Greenlight Capital losing 34 percent and Third Point Offshore fund declining 11 percent.
Bridgewater also topped LCH's annual rankings of managers by their overall profits since inception, a listing where the largest and oldest hedge funds tend to do best. Renaissance was one of two new entries to the list, along with Two Sigma.
Top 20 Managers Ranked by Profits Since Launch
Company
Net Gains
Since Start
2018 Gains
Launch Year
Bridgewater
57.8
8.1
1975
Soros*
43.9
1973
Citadel
30.7
2.1
1990
DE Shaw
29.1
2
1988
Baupost
27.4
0.4
1983
Och-Ziff
26.2
0.2
1994
Lone Pine
25.9
-1.3
1996
Viking
25.4
-0.6
1999
Appaloosa
25.2
-0.2
1993
Elliott Associates
25.1
0.8
1977
Farallon
22.7
1.3
1987
Millennium
22.4
1.8
1989
SAC/Point 72
21.1
0
1992
Brevan Howard
18.8
0.9
2003
Moore Capital
18.3
-0.1
1990
Paulson & Co.
17.9
-0.2
1994
Renaissance Tech
16.7
4.7
2005
King Street Capital
15.6
-0.1
1995
Two Sigma
15.2
3.2
2002
Caxton Associates
14.9
0.2
1983
Top 20 Managers
500.3
23.2
All Managers
1,097
-41
Gains are in billions of dollars
* Through Dec. 31, 2017