Bridgewater Co-CIO Bob Prince Says Boom-Bust Cycle Is Over
Bob Prince, who helps oversee the world's biggest hedge fund at Bridgewater Associates, says the boom-bust economic cycle is over.
The tightening of central banks all around the world "wasn't intended to cause the downturn, wasn't intended to cause what it did," Prince, the co-chief investment officer of Bridgewater, said in an interview with Bloomberg TV at the Swiss resort of Davos. "But I think lessons were learned from that and I think it was really a marker that we've probably seen the end of the boom-bust cycle."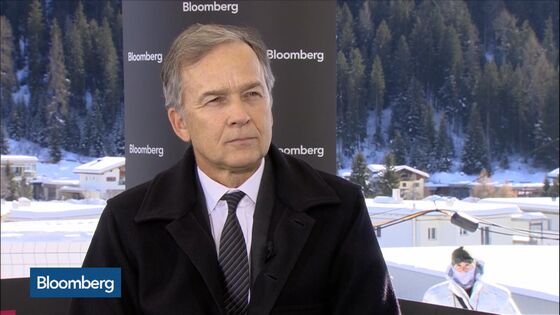 The boom-bust cycle refers to economic expansion and contraction that repeats itself. However, central bank intervention since the financial crisis and monetary easing has disrupted that cycle and has helped fuel the longest-running bull market in stocks. That has led the hedge fund industry to struggle to match gains of passive funds tracking indexes.
The Westport, Connecticut-based investment firm suffered its first annual loss since 2000 in its most prominent fund--Bridgewater Associates Pure Alpha II--last year. The fund lost 0.5%, only the fourth annual decline since starting in 1991. Many of its peers, by comparison, posted some of their best returns since 2008.
Prince, who oversees Bridgewater's $160 billion in assets with Ray Dalio and Greg Jensen, said that performance this year has been so far good for the firm. He was among at least 119 billionaires converging on Switzerland this week to join bankers, politicians and other grandees for their annual pilgrimage to the Alps for the World Economic Forum.
Earlier this week, Dalio urged investors not to miss out an opportunity to benefit from strong markets. "Cash is trash," he said in a CNBC interview in Davos on Tuesday. "There's still a lot of money in cash."
Although Dalio said he believes the Federal Reserve can no longer stimulate the U.S. economy, he doesn't think there will be a downturn this year.
Morgan Stanley Chief Executive Officer James Gorman took issue with the suggestion that the patterns of booms and busts are done.
"You'd have to kill fear and greed for that to be true," Gorman said on Bloomberg TV in Davos. "There's a reason we have cycles going back thousands of years and I don't think that stops."